Trump says he could shoot somebody on 5th Ave and still not lose loyal voters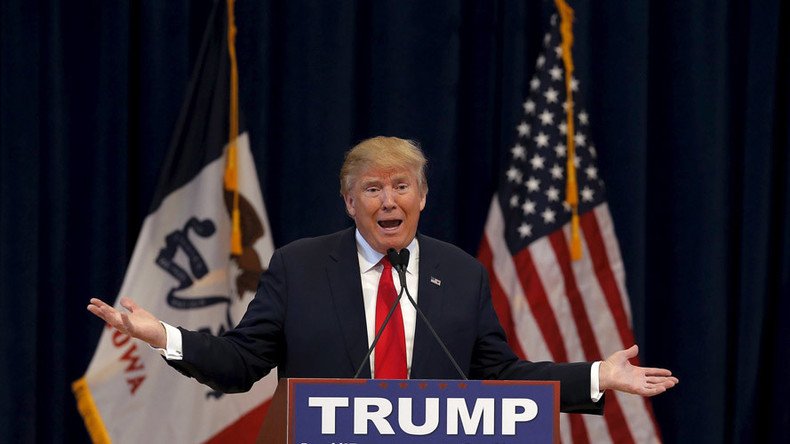 Donald Trump's self-confidence in his drive to secure the Republican presidential nomination is pushing through the roof. In his latest speech he claimed that his voters are smart enough to not abandon him even if he was to kill somebody in broad daylight.
"I could stand in the middle of Fifth Avenue and shoot somebody, and I wouldn't lose any voters, OK?" Trump said in his campaign speech at Dordt College in Sioux Center, Iowa.
Trump has been leading national polls of Republican voters for months and now holds a lead in the early voting in Iowa caucuses that will be held on February 1.
Trump believes his voters' loyalty is so strong and competition so weak, that even a random shooting in the middle of a street won't turn people away from him.
"The people. My people are so smart, and you know what they say about my people? The polls. They say I have the most loyal people. Did you ever see that? It's, like, incredible," he said just before making the homicide remark.
While the GOP nomination is half a year away, nothing Trump says seems to hold back his voters, at least according to a tweet which he composed after yet another controversial appearance.
Just left Sioux Center, Iowa. My speech was very well received. Truly great people! Packed house- overflow!

— Donald J. Trump (@realDonaldTrump) January 23, 2016
"Just left Sioux Center, Iowa. My speech was very well received. Truly great people! Packed house- overflow!"
Trump's Republican rival Texas Senator Ted Cruz did not approve of the billionaire's choice of metaphorical expression, vowing that during his own campaign he has "no intention of shooting anybody."
You can share this story on social media: