Not so American? Russian WWII soldiers feature in Trump's campaign video, then get cut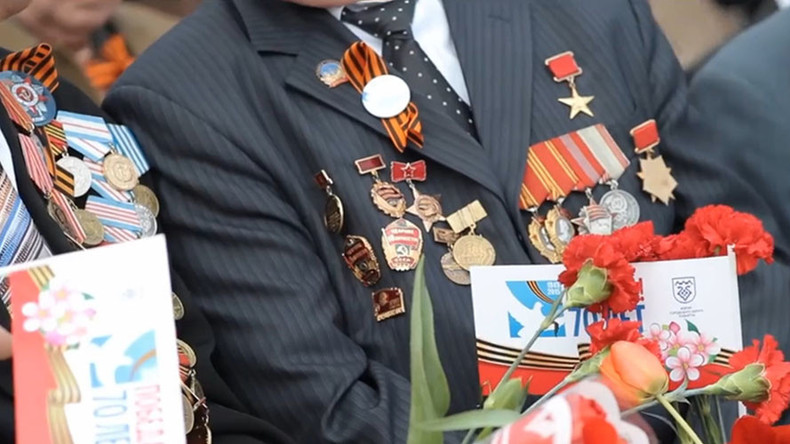 Images of Russian World War Two veterans were included in US presidential candidate Donald Trump's latest campaign video on American "wounded warriors." After the mistake had been noticed by viewers, the images disappeared from the clip.
The Republican front-runner's campaign shared the Facebook video on Friday. In it, Trump speaks about the "incompetence" with which American war veterans are allegedly being treated by the authorities, vowing to change things for the better.
"Our great veterans are being treated terribly... We are gonna take care of our wounded warriors. These are our greatest people, we will take care of them like they've never been taken care of before," Trump said, before concluding: "If Trump becomes president, believe me, our veterans will be proud again!"
Surprisingly for many, the video featured footage of Russian veterans at an event celebrating the 70th anniversary of victory against Nazi Germany in World War Two. Soviet and Russian medals could be clearly seen on the war heroes, who were also holding red carnations and invitations to the event written in Russian – which also had logos of the Russian city of Tolyatti on them.
The video has been replaced on Trump's campaign web sources. While the candidate's speech remained the same in the updated version, the images of Russian veterans had disappeared, instead changed for a photograph of Trump himself greeting a man with prosthetic arms.
Meanwhile, another image of American servicemen remained, which is also claimed to have been used "without permission." Hawaiian news source Honolulu Civil Beat said on Twitter the image was taken by their photographer, and asked Trump to "take it down."
It's not the first time the US billionaire's campaign office has mistaken quite different soldiers for American servicemen. In July, Trump's campaign team photoshopped an image of their candidate's face, the White House and some soldiers behind an image of the US flag. It turned out that those soldiers were Nazi troops. An intern was blamed for the error.
You can share this story on social media: