Bones from suspected African burial ground found under New York street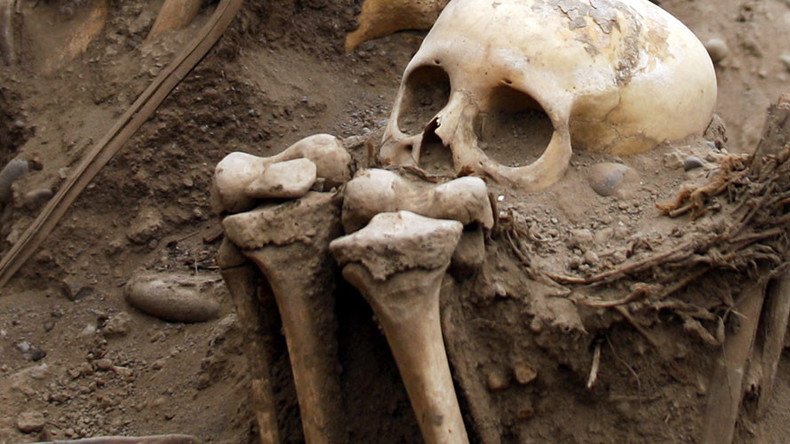 Archaeologists have found evidence of a burial ground beneath a bus depot in Harlem, New York. The remains, which were found on 126th Street, are believed to be of New Yorkers of African descent and are thought to date from between the 17th and 19th century.
More than 140 bones were found by archaeologists who were working for the New York City Economic Development Corporation, the New York Times reports. The researchers also came across a skull, which they believe is likely to have come from an adult woman of African descent.
The finds were made during the summer of 2015; however, they were only announced this week.
"We're very excited. This is a way of affirming a part of Manhattan history that has been overlooked," said Melissa Mark Viverito, the City Council speaker, as cited by the New York Times. She added that the challenge is now to try and create a fitting memorial.
The bones were all found in soil which had been deposited outside the known boundaries of the burial ground, A. Michael Pappalardo, an archaeologist at AKRF stated.
"No intact burials were encountered or disturbed," Pappalardo said, however, household artifacts such as pipes and ceramics were discovered.
In November, campus employees at New York University made a grisly discovery while carrying out maintenance work as they came across coffins and skeletons buried beneath Washington Square Park in Greenwich Village.
The workers were replacing a water main when they found the remains of what is believed to be part of a Presbyterian church cemetery, an archaeologist said.
"You never know what you can find beneath the city's streets," Alyssa Loorya said at the site in Manhattan's Greenwich Village neighborhood. "You bury people to memorialize them, and these people were forgotten," she added, as cited by AP.
They found two burial vaults which are stated to be around 200 years old. One of the crypts was roughly 4.5 meters by 5.5 meters in size, while the archaeologists found evidence that it had been disturbed, with up to a dozen skulls and skeletons found piled up, while a number of coffins were discovered in the second vault.
You can share this story on social media: