Walmart broke law by firing on-strike workers, must offer to re-hire them – NLRB judge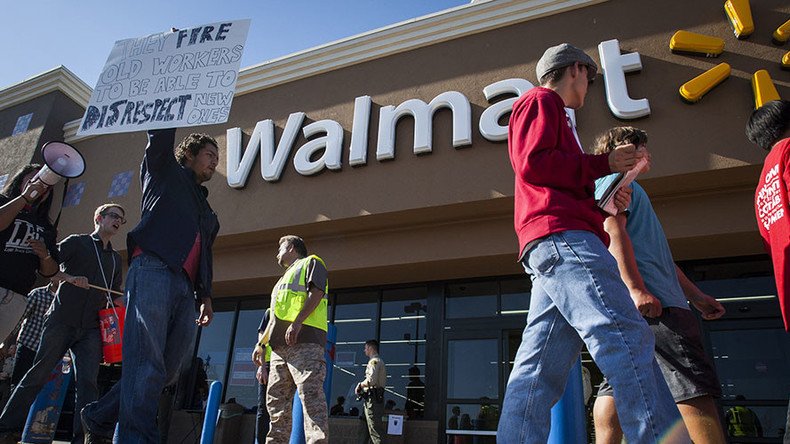 Walmart broke the law when it fired 16 employees for going on strike in 2013 and must now offer to re-hire them, a National Labor Relations Board (NLRB) judge has ruled. The retail giant has indicated it will appeal the decision.
The mega-retailer fired and disciplined workers at 29 stores for unexcused absences after they took part in a strike for better pay and working conditions in 2013.
But Administrative Law Judge Geoffrey Carter ruled on Thursday that Walmart violated labor law by "disciplining or discharging several associates because they were absent from work while on strike," adding that the strike was protected under the National Labor Relations Act.
Carter also ruled that the chain must give the employees back-pay for lost wages. Workers must be made "whole for any loss of earnings and other benefits suffered as a result of the discrimination against them," he said.
In addition, Walmart must hold a meeting in 29 the stores where workers were fired or disciplined in order to inform employees of their rights to organize under US labor law, and vow not to retaliate or threaten them for doing so.
Walmart "took swift action against associates after they returned from strike," the ruling said, adding that it "sent a message to all associates at the store that similar protected activity would lead to disciplinary action."
Carter was ruling on a complaint filed in 2014 by the National Labor Relations Board on behalf of the union-backed worker group OUR Walmart. Most of the allegations against the mega-retailer related to a set of strikes referred to as the "Ride for Respect," because they involved traveling by bus to the company's headquarters in Arkansas for protests at its shareholders' meeting in June 2013.
Labor advocates at "Making Change at Walmart," which is backed by the United Food and Commercial Workers International Union (UFCW), called the decision a "huge victory."
"Today's decision proves beyond doubt that Walmart unlawfully fired, threatened, and disciplined hard-working employees simply for speaking out," Jess Levin, the group's spokesperson, said in a statement. "It sends a message to Walmart that its workers cannot be silenced."
However, Walmart insists it did nothing wrong and has indicated it will appeal the ruling.
"We disagree with the Administrative Law Judge's recommended findings and we will pursue all of our options to defend the company because we believe our actions were legal and justified," Walmart spokesman Kory Lundberg said, as quoted by Reuters.
The ruling comes just one day after Walmart announced it was raising wages for 1.2 million US workers in 2016 as part of a $2.7 billion investment over two years in wages and training.
You can share this story on social media: