The 70 year itch: US veteran to reunite with lost love from WWII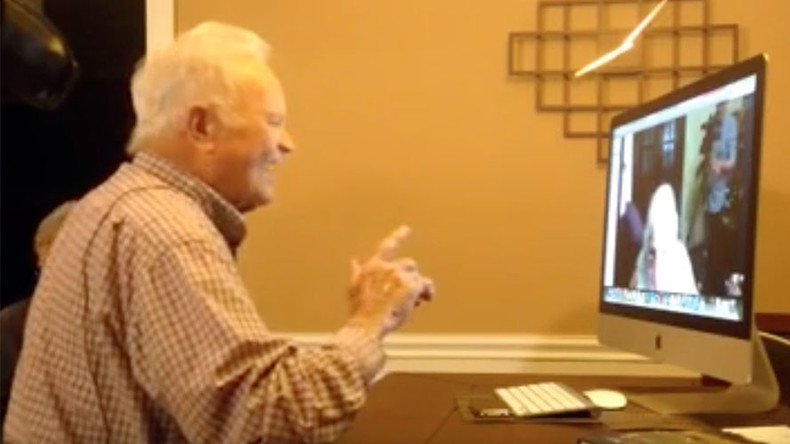 World War II veteran Norwood Thomas, 93, never forgot his sweetheart Joyce Durrant, 88, even after more than 70 years apart. Now he is set to cross the globe to meet her in Australia, thanks to a crowdfunding campaign.
The two met in England in 1944 when Thomas was stationed as a member of the 101st Airborne Division near London.
"We were on a bridge crossing the Thames when we looked down and saw these two fine, young ladies," Thomas told ABC News. "We went down, paddled around the Thames in rowboats for a bit, later got some drink and food, and Joyce and I just clicked."
Their brief romance was cut short when Thomas had to go to France for the Battle of Normandy.
"All I can say is it was long enough for me to become smitten. For me to decide that this is a girl that I want to marry and want to live with," he said.
Thomas returned to the US after the war, where he wrote to Durrant. He asked her to join him but she refused as she was training to become a nurse.
He eventually met another woman whom he married.
It was only after his wife's death in 2001 that he started to think of Durrant again. He remembered the future they never got to share: "All through my life I had this little thought of 'what if?'"
One day, Thomas' son received an email from Australia. It was Durrant's son.
His mother, now Joyce Morris, had been thinking of her wartime romance as well, and asked her son to do some research into the man she fell in love with all those years ago.
Her son contacted his son, and mentioned the pink suit and year's subscription to Reader's Digest Thomas sent to Joyce after the war.
"She would be tickled pink to find he is still alive and be able to write to him," the email read.
"It was a great revelation," Thomas said.
In November, the long lost lovers set eyes on each other for the first time in more than half a century, through the medium of Skype.
"When she called me Tommy, her nickname for me, oh my God, it stirred emotions that had been dormant for a long, long time," Thomas said.
They spoke for more than an hour, detailing where their lives had taken them since the war and reminiscing on their time together in England.
Morris admitted she was confused by Thomas' letter asking her to set up home with him. She thought he was married and wanted to leave his wife. "And that was the end of it," she said.
"I have a picture frame on my bureau and I say good morning to you every morning," Morris confessed.
"The only one big problem is I can't take you in my arms and give you a squeeze!" Thomas told Morris during the call.
Next month, the pair will finally get to squeeze each other when Thomas and his son will fly to Adelaide, Australia to meet Morris on February 8.
A crowdfunding campaign set up by fellow romantics who saw his original story will help cover their travel costs.
You can share this story on social media: