Outsiders are in: Donald Trump, Bernie Sanders lead in latest Iowa poll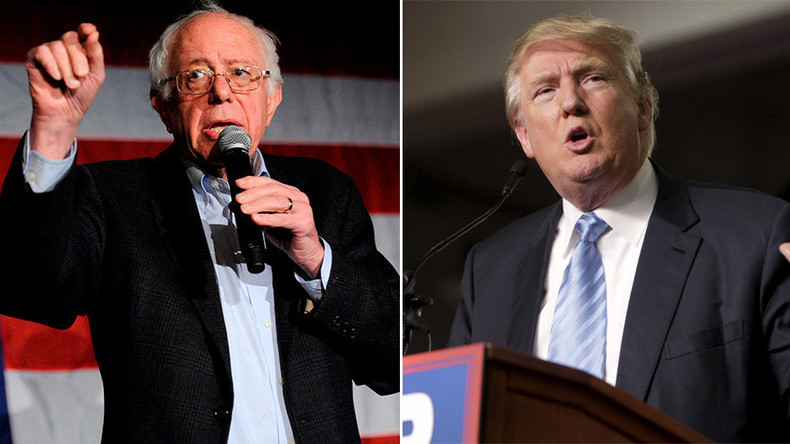 A new poll found presidential candidates Donald Trump and Bernie Sanders with comfortable leads in an Iowa caucus poll. But voters thought Trump and Clinton had the best chance of winning in the general election, according to the CNN/ORC survey.
The CNN/ORC poll was released Thursday and comes just days after a Democratic debate in Charleston, South Carolina. Earlier this week, former Republican vice-presidential candidate Sarah Palin also endorsed Donald Trump.
According to the poll, Trump leads the Republican race, with 37 percent support compared to 26 percent for Senator Ted Cruz (R-Texas). Senator Bernie Sanders (I-Vermont) has an eight point lead as the preferred Democratic presidential candidate over rival Hillary Clinton, leading her in Iowa 51 percent to 43 percent.
Those polled were asked to evaluate the Republican candidate who would best handle issues such as the economy, illegal immigration, foreign policy and social issues such as abortion and same sex-marriage. Trump scored the highest for the economy (54 percent) and for illegal immigration (51 percent), with Cruz trailing at 16 percent and 23 percent, respectively.
On foreign policy, the scoring was fairly close between Trump (27 percent), Florida Senator Marco Rubio (26 percent) and Cruz (25 percent). Cruz scored higher than Trump on social issues, at 29 percent to 18 percent, with Rubio at 12 percent.
When asked which Republican candidate best represented their values, 29 percent said Cruz, followed by Trump at 28 percent and Rubio at 15 percent. But 46 percent still thought Trump has the best chance of winning in the general election in November and 47 percent thought he was the stronger leader.
Trump's popularity in Iowa has grown 15 percent since a similar poll in August 2015.
Concerning Democratic presidential candidates, Sanders' popularity in Iowa has grown 20 percent since a similar poll in August 2015, from 31 percent to the current 51 percent. Clinton's has dropped from 50 percent in August to 43 percent in January 2016.
When asked about the economy, health care, and foreign policy, Sanders scored the highest at 58 percent on the economy and 51 percent on health care, compared to Clinton's 36 percent and 45 percent, respectively. Clinton scored 65 percent as the best to handle foreign policy if she was elected president, while Sanders scored 25 percent. Voters also thought Sanders (57 percent) would do more to help the middle class, while only 30 percent thought Clinton would.
Fifty-seven percent of voters thought Sanders represented Democratic values, while Clinton scored 38 percent. However, 60 percent thought Clinton had the best chance of winning in the general election in November.
When asked whether they would like the next president to continue Obama's policies, move to more conservative policies or liberal polices, 48 percent said continue with Obama's policies and 14 percent said move towards conservative polices, while a third (33 percent) wanted more liberal policies.
Of the issues most pressing for voters, the economy was the lead at 37 percent for Republicans to 46 percent for Democrats. Twenty percent of Democrats were concerned about health care, while 20 percent of Republicans were concerned about terrorism.
The Interviews were conducted with over 2,000 adult Iowans by telephone on January 15-20. The sample included 266 who were likely to participate in the Republican presidential caucus and 280 who were likely to participate in the Democratic presidential caucus.
You can share this story on social media: