Mississippi gun store: 'We don't sell to terrorists or democrats'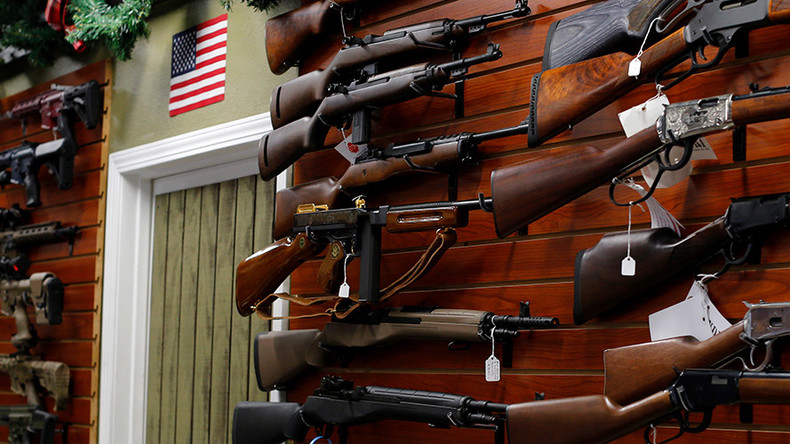 There have been mixed reactions to a Mississippi gun store that says it won't sell to "Terrorists or Democrats" because it's "too hard to tell the difference."
Tim Wolverton, owner of Down Range Sporting Goods in Jackson, set up two signs at a gun show over the weekend, one comparing Democrats to terrorists and the second stating, "If you voted for Kenneth Stokes or Barack Obama, you're too stupid to own a gun. Please find another dealer."
Wolverton told WDAM that Stokes, a councilman in Jackson, was featured on the poster because of his remarks earlier this month that people should "throw rocks and bricks and bottles" at police from other jurisdictions who are chasing criminals into Jackson.
READ MORE: Mississippi lawmaker wants 'black leadership' to team up & throw rocks at police
Wolverton said the sign is his way of showing support for police, who he says are "underpaid" and "under appreciated."
Stokes didn't feel quite the same way about the poster. While saying it was a "privilege" to be mentioned alongside President Obama, he told Mississippi News Now that if Wolverton's intentions are "anything but good… he's a dumb bastard."
One attendee said the sign was "a bit inappropriate… but for customer base I imagine it's pretty good for his business," while another said it was "kind of offensive".
A number of Twitter users branded the sign "awesome," while user @Angelemichelle said it was "perfect." "Ain't it the truth!" commented @BenGhaziGal.
It's not the first controversial sign to pop up at a gun show, with a number of posters catching people's attention, including these two targeted at Muslims.
Others have taken aim at Obama for his stance on gun control over the years, using pretty much the same wording.
And one gun dealer encouraged sales using some rather unexpected reasoning.
Stokes has requested the US Attorney General's office open an investigation into Wolverton's business.
"A lot of illegal activity is taking place at these gun shows and if a gun dealer is crooked, that's how these guns get in these neighborhoods where we have so many murders," he told WDAM. "We are asking for an investigation. That way we don't have to allege anything."
You can share this story on social media: