Decade-long Gulf oil spill caused by Hurricane Ivan 'an act of God'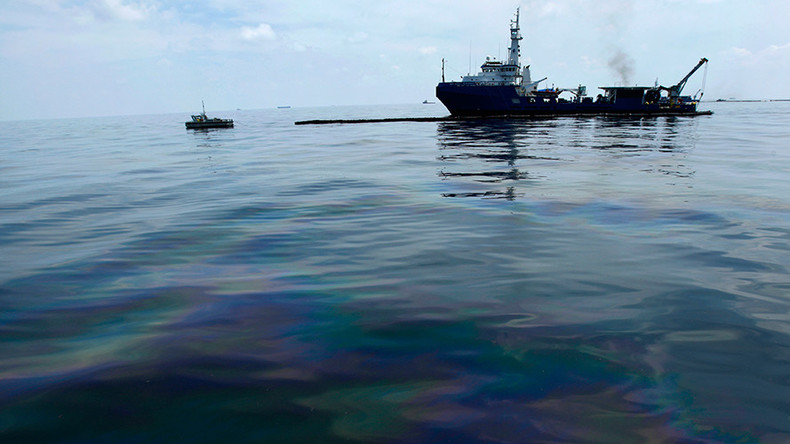 A spill that has been leaking oil into the Gulf of Mexico for a decade was caused by "an act of God," the president of the responsible company has said. The flow, which started thanks to Hurricane Ivan, could continue for a century.
In September 2004, Hurricane Ivan thrashed its way across the Gulf of Mexico from Grenada before crashing into Alabama as a strong Category 3 storm. Along its path, Ivan whipped up waves, causing an underground mudslide, which took out a Taylor Energy-owned oil platform. A cluster of the company's oil wells were buried under mounds of sediment. Oil began seeping out of the site, creating chronic, miles-long oil slicks about 10 miles off Louisiana's shoreline.
On Wednesday, Taylor Energy President William Pecue spoke publicly about the spill for the first time.
"I can affirmatively say that we do believe this was act of God under the legal definition," he told a gathering of industry experts and environmental advocates at a Louisiana State University (LSU) research center in Baton Rouge.
The public meeting was a requirement of a court settlement made in September after environmental groups sued Taylor Energy in 2012, accusing the company of withholding information about the leak. Up to 1.4 million gallons of oil has spilled from the site since 2004, according to estimates by the watchdog group SkyTruth.
A US Department of the Interior fact sheet on the spill obtained by the Associated Press in April found that, if nothing more is done to address the spill, the leak could last for another century.
"There is still more that can be done by Taylor to control and contain the oil that is discharged," the fact sheet said.
Taylor Energy has said nothing can be done to completely eliminate the frequent leaks, and there is no more ecological impact caused by its buried wells. Experts have said that the chronic sheens are caused not by oil leaking from the ground, but by remnant oil trapped in the mud on the ocean floor, NPR reported.
"As long as we've got oil down there, there will no doubt be hydrocarbon bubbles that will percolate through the sand and bring it to the surface," Mike Beaty, the company's attorney, told NPR after the day-long meeting ended.
Environmentalists aren't buying Taylor's claims, however.
"You see the oil sheen? You see the boat going across? And on any clear day, you can go see the same thing," retired Army General Russell Honore, leader of Louisiana's Green Army, told NPR. "How can somebody say this amount of oil has zero impact on the environment?"
Louisiana's Green Army has been taking photographs of the oil on the surface of the Gulf.
While Wednesday's meeting had a Q&A session, questions from the public were required to be submitted in writing, which meant that Honore could not ask how Taylor Energy plans to be more transparent in the future, AP reported. The retired general, who is known for helping restore order in New Orleans after Hurricane Katrina in 2005, refused to accept Pecue's assertion that the disaster wrought during Ivan was anything other than "an act of man."
"If we didn't put the [platform] there, this incident wouldn't have happened," Honore said at the meeting. "I don't blame God for what happened here."
Pecue wouldn't comment further on his "act of God" remark, citing "potential future litigation."
"I can affirmatively say that we do believe this was act of God under the legal definition," he said. "Defining why we believe this is an `act of God event' gets into a legal definition that is not appropriate for today."
Pecue is the last remaining full-time employee of Taylor Energy, which was once one of the largest drilling operators in the Gulf. The company sold all its offshore leases and oil and gas interests in 2008, four years after its founder, Patrick Taylor, passed away.
Taylor Energy has spent more than $480 million on stopping the leak, AP reported. Earlier in January, the company sued the US government to recover the approximately $432 million frozen in a trust that is reserved for leak response work. In 2015, federal authorities refused to settle with Taylor, ordering it to perform more work at the Gulf site.
You can share this story on social media: