Chair pose and cheers: Beer yoga is coming to a city near you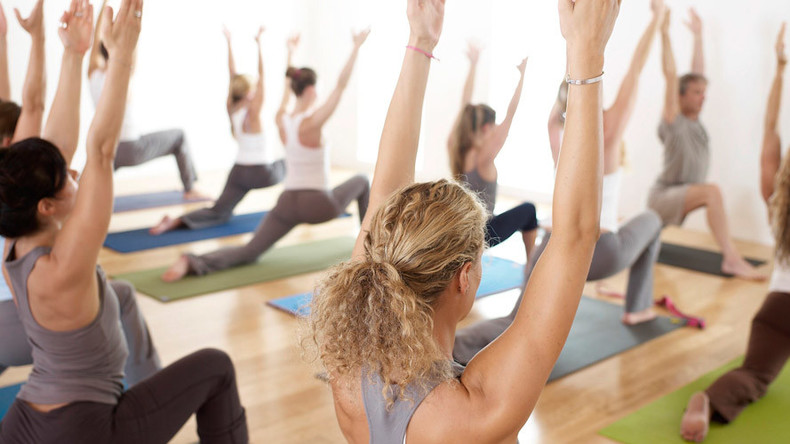 Yoga and alcohol may seem to be on polar opposites of the health spectrum, but a new health craze encourages practitioners to have their beer and drink it, too. The classes are often hosted in breweries and are introducing new audiences to yoga.
By pairing booze and bending, beer yoga appeals to those who might not be interested in the more typical structure of a yoga class. As Beth Cosi, founder of Bendy Brewski, told Yahoo News, "We get the men in the door mostly because it's in a brewery and they get a beer afterward. That's the carrot."
One perfect example is Thornton Dale, who wrote about his first yoga class. He describes entering Hoppy Yoga "nervous, hung over, and worried that people who notice that I had no idea what the hell I was doing." But Dale's lasting impression of beer yoga is that it is "a mellow, judge-free class that is great for first timers."
The appeal for beginners in beer yoga is not just in the reward at the end. According to Yahoo News, most yoga classes last around 90 minutes while Cosi's Bendy Brewski classes run 45 minutes. In addition, both Hoppy Yoga and Bendy Brewski classes are $15, including a beer made from the same brewery the classes take place in.
Combining both health and fun, free classes in Oregon can draw from 75 to 100 people at a time, Yahoo News reports. There is also something to be said about the appeal of the location. Tony Yang, the recreation supervisor of fitness for Aurora, Oregon, told the Aurora Sentinel that "It's kind of cool because you're doing yoga and you have the beer barrels stacked up right next to you along the wall."
Classes are springing up all across the country, from California to New York. And for those worried about beer guts, a national survey found that drinking is associated with a 10 percent increase of exercise.
Bottoms up!
You can share this story on social media: