US Air Force drone tech crashing in record numbers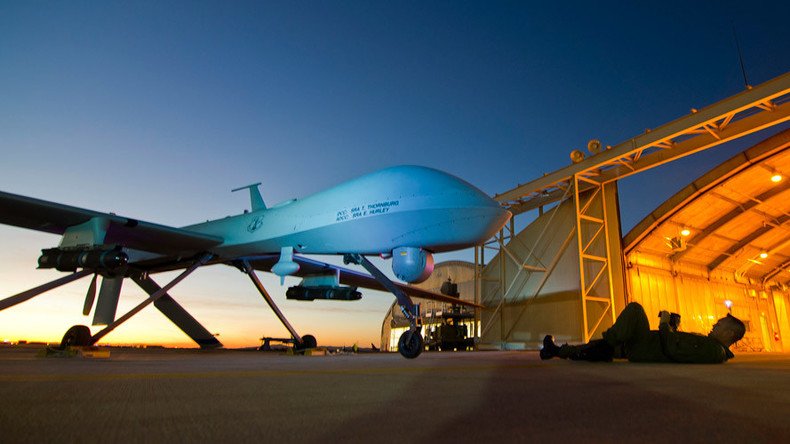 A record 20 US Air Force drones crashed in 2015, putting increased pressure on the supply levels of the devices used by the US to carry out killings and surveillance operations.
The mystery crashes add to the unreliability of the unmanned aerial vehicles, which are said to depend too heavily on signal intelligence (SIGINT) to target victims. The drones are also known to struggle with bad weather and distance.
According to documents obtained by the Washington Post through an FOIA request, a faulty starter-generator caused the crashes in the Air Force's newest drone - but the reason for its failure is not clear.
The US is currently involved in drone campaigns in Libya, Yemen, Syria, Iraq, Pakistan Somalia and other nations, none of which they are officially at war with. They also conduct drone warfare in Afghanistan and Iraq.
In 2015 six drones crashed in Afghanistan, four crashed in Africa near Djibouti, others crashed in Iraq, Kuwait, Turkey, Syria, Libya and two other undisclosed countries, according to the Washington Post.
In 2014, a drone crashed near a Pennsylvania elementary school.
The US Army also has a fleet of drones, and the number of crashes they have experienced are not included in the figure. Army drones experienced four crashes in 2015: two in Afghanistan and two in Iraq. The CIA also has its own drone program, conducted in a covert manner and piloted by Air Force drone operators.
According to the Washington Post, more than 400 US military drones have been involved in accidents since 2001, with 237 of them resulting in 'Class A' crashes, resulting in over $2 million in damage. The number of Reaper crashes have more than doubled in 2015, while the older Predator drone has also experienced a number of accidents.
The Air Force failed to disclose half of the 20 drone accidents last year, despite its policy to do so. In five other cases, acknowledgement was only made after local authorities had reported the crashes.
The US has killed more than 4,700 people by armed drone strikes, according to Reprieve.
A mere 10 percent of armed drone strikes in Afghanistan killed the intended victim in a five-month period in 2013, according to The Intercept's Drone Papers. In Pakistan, between 423 and 965 civilians have been killed in 422 drone strikes since 2004.
Drone Pilot Shortage
Aside from the trouble with electrical failures and inaccurate SIGINT, the Air Force had to cut back on its drone strikes by 8 percent due to pilot shortages, and have offered bonuses of up to $125,000 to retain drone pilots.
There are said to be about 1,000 drone pilots in the Air Force. One hundred and eighty new drone pilots graduate annually - and about 240 pilots quit in the same period.
The 2015 whistleblowing documentary Drone revealed the strain that targeted killing has on drone pilots, who complain of Post Traumatic Stress Disorder and trauma caused by witnessing civilian casualties and carrying out kills in a detached manner.
The pilots wrote an open letter to Barack Obama, describing the drone program as one of the "devastating driving forces for terrorism and destabilization around the world."
Drone Manufacturers
Reaper and Predator drones are made by General Atomics who won a $338 million contract to support Air Force drones in December. General Atomics is owned by brothers Linden Stanley and James Neal Blue, who have enjoyed endeavours in enriched uranium, purchasing a uranium mine in Australia when it was still illegal to do so, operating a leaking radioactive uranium processing plant in Oklahoma and spying on Australian activists.
They operated plantations in Nicaragua with former dictator Anastasio Somoza, who was overthrown by the Sandinistas. It was there that the brothers were first inspired to develop drones, realising light aircraft could be used to destroy Sandinistan oil pipes. "You could launch them from behind the line of sight," Neil told Fortune in 2008.
You can share this story on social media: