Horses yes, pedicabs no in heart of NYC's Central Park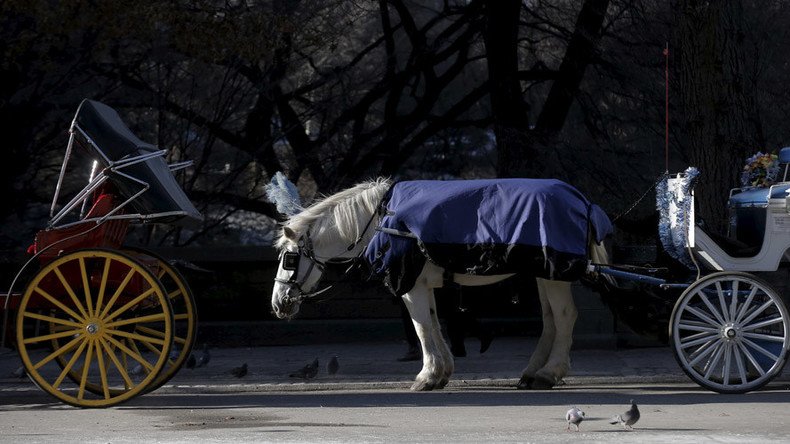 The people-powered pedicab industry is telling New York City Mayor Bill de Blasio to hold his horses when it comes to a controversial new proposal for the Big Apple's crown jewel: Central Park.
De Blasio announced plans over the weekend to reduce the number of horse-drawn carriages in Central Park, in exchange for an equine monopoly in the tourist-rich section of the 843-acre green area that is south of 85th Street.
Since taking office two years ago, de Blasio has taken on the powerful Teamsters Union and actor Liam Neeson, both proponents of the tourist-funded trade, by targeting horse-drawn carriages on the grounds of animal welfare.
Some accuse him of grabbing the property currently occupied by the horse stables on behalf of a developer-donor.
Now pedicab operators want to hit the brakes on the mayor's plan, since they stand to lose out on thousands of potential customers per day. They would also need to cycle around the 2.5-mile (4km) long park, even if they pick up their customers elsewhere. Plus, they aren't allowed to use the city's bicycle lanes, so they must battle it out with cars and trucks.
In de Blasio's 2013 election campaign, he promised a complete ban on horses in Central Park, garnering him the support of animal rights groups.
The new deal will also include the building of a new stable within Central Park by 2018. It will house the horses and carriages in an attempt to keep them from traversing the city streets from private stables.
On Tuesday, pedicab drivers protested the decision at New York's City Hall. In a statement, demonstrators said de Blasio wants "to exile us out of Central Park without discussing it with us first."
Legislation on the horse carriages has not yet been introduced. On February 4, all sectors from the industry will speak at a public hearing.
In addition to Neeson, this issue has drawn attention from other celebrities, albeit on the other side, speaking in favor of the animal rights group PETA.
You can share this story on social media: