Dow falls to new low as oil plunges to $27 a barrel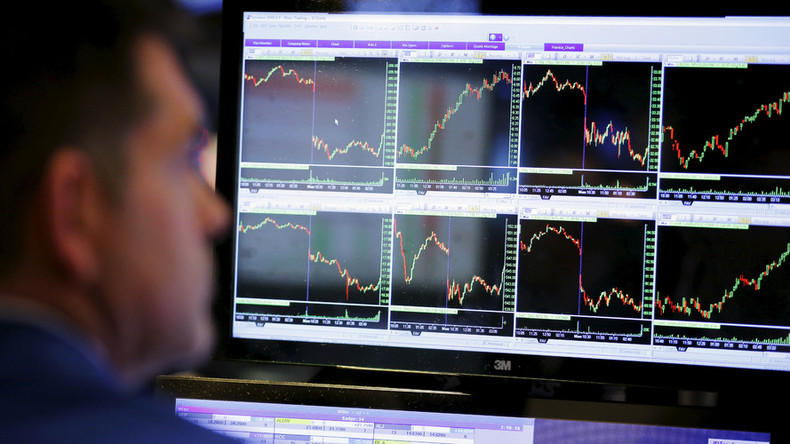 The Dow Jones Industrial Average dropped 550 points before a surge in buying recovered over half of those losses, ending in a 1.56 percent loss. Meanwhile, oil prices fell to a low not seen since May 2003, with US crude dipping to $27 per barrel.
From an opening of 15,989.45, the Dow never went higher, then closed at 15,766.74, down some 223 points after rallying back from a low of 15,450.
The S&P 500 lost 14 points (0.7 percent) to end at 1,867 after recovering from its lowest level, 1,812.22, since February 2014. The worst performing sector during the day was the energy industry, which fell 4.4 percent, meaning a loss of 14.7 percent since the start of 2016.
The Nasdaq closed at 4,471.69, a drop of just 0.1 percent, after beating back a 145-point loss during the day to end up down just 5.26 points.
The early sell-offs were triggered by record-low oil prices dropping by a further 4 percent, sinking below $27 per barrel, its lowest price since September 2003. Crude oil has become so cheap after the lifting of UN sanctions against Iran because investors expect Iran's oil exports to add to the current supply glut.
Lower prices for goods may be helpful for some businesses and individuals, but if a drop in overall demand is another factor in prices dropping, then investments will be negatively impacted, further slowing the economy.
Foreign markets had a bad day as well. The Japanese Nikkei index closed at 20 percent lower than its highest point from the past summer, dropping 3.71 percent to 16,416.19.
Drops in both foreign and domestic stock markets are at least partially being blamed on fears over China's economy.
"The frailty in the Chinese growth remain the core problem for investors and the spotlights are not moving away from it anytime soon," Naeem Aslam, chief market analyst for the online foreign exchange company Avatrade, said in a statement.
On Tuesday, China showed its lowest rate of growth in a quarter century, posting a Gross Domestic Product of only 6.9 percent growth in 2015.
"This is a serious selloff that is in large part driven by the 70 percent decline in oil prices and concern over the slowing Chinese economy," said Edward Harrison of RT's Boom Bust. "The question now is whether a liquidity crisis develops unexpectedly as a result of this and whether there are serious real economy effects. We won't know for some time. However, we should expect the US Federal Reserve to push back its rate hike stance at a minimum, effectively taking a hike in March off the table."
You can share this story on social media: