'I don't care what you're eating': Christie promises 5th grader he'll end First Lady's lunch program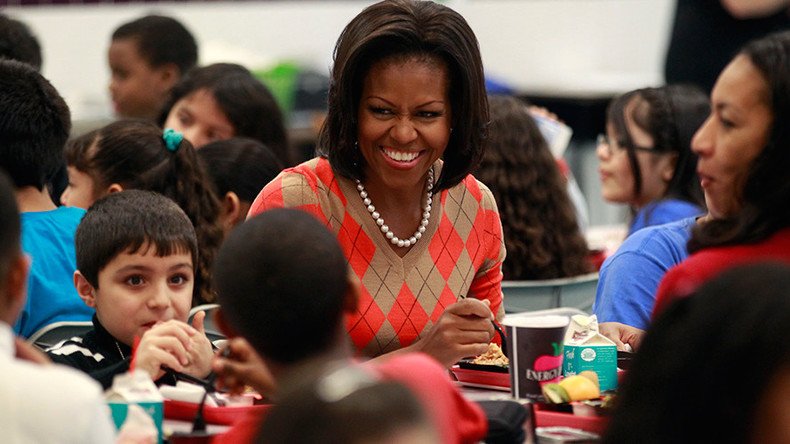 An 11-year-old who misses eating "crispitos" was happy to hear Republican presidential candidate and New Jersey Governor Chris Christie promise to end Michelle Obama's school lunch program if elected. However, the Republican is on record as a supporter.
Fifth grader Jacob Royal showed up wearing a blue suit and Republican pin at the Council Bluffs town hall in Iowa with Christie on Monday. Royal had flown all the way from his home in Omaha, Nebraska to raise awareness of an important issue: special rolled tacos known as "crispitos," and why they had disappeared from his school lunch tray.
"What are you going to do about the lunches?" Royal asked. "They were fine when Mrs. Bush was the first lady, but now that Mrs. Obama is the first lady, they have gone down."
Christie responded, "The first lady has no business being involved in this," adding, "I don't care what you're eating for lunch every day. I really don't. I want you to eat whatever your mother wants you to eat and your father want you to eat," according to the Des Moines Register.
Since Michelle Obama successfully lobbied for the passage of the Healthy, Hunger-Free Kids Act in 2010 and the new standards were implemented in 2012, schools have received federal funding for providing whole grains, fruits, vegetables, and other foods low in fat, sugar, and salts.
"If she wants to give her opinions about what people should have for breakfast or lunch or dinner, she is like any other American, she can give her opinion," Christie told Royal and the rest of the approximately 150 attendees. "But using the government to mandate her point of view on what people should be eating everyday is none of her business."
That is not what Christie told Fox News in 2011, however.
"I think it's a really good goal to get kids to eat better," Christie said of Mrs. Obama's efforts, adding, "I've struggled with my weight for 30 years. And it's a struggle. And if a kid can avoid that in his adult years or her adult years, more power to them. And I think the first lady is speaking out well."
In the 2011 interview, Christie also said, "I don't want the government deciding what you can and what you can't eat," but "I think Mrs. Obama being out there encouraging people in a positive way to eat well and to exercise and to be healthy, I don't have a problem with that."
The daily mandates, which were loosened by Congress in 2014, have not been well-received by many school officials, citing expenses, or children who just don't like the food. Last year, the University of Vermont released a study showing students threw out 56 percent more food than before the standards began. Also in 2015, the Government Accountability Office found 1.4 million students excused themselves from the program between the 2010-2011 and 2013-2014 academic years, bringing overall participation to 58 percent.
The Senate Agriculture Committee is expected to vote on further reforms to the program on Wednesday.
"I think it is good that [Christie] will fix it," Royal told reporters after Christie answered his question.
You can share this story on social media: