'A good strike': New Pentagon video shows US bombing ISIS cash depot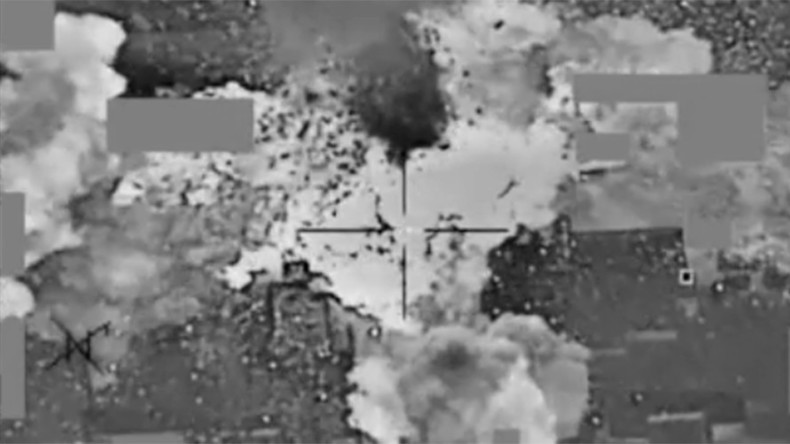 The US Defense Department declassified a video it says shows a coalition air strike against an Islamic State cash depot in Mosul, Iraq. The video shows a bomb strike among a cluster of buildings, with clouds of cash seen fluttering in the air.
The 47-second video, first obtained by CNN and released on Friday, has no sound. It begins moments before a pair of 2,000-pound bombs strikes a warehouse in Mosul, Iraq on January 11. The Department of Defense said it was an Islamic State (IS, also known as Daesh or ISIS/ISIL) cash depot.
After the explosion occurs, clouds of money are seen flying through the air. It is later shown scattered on rooftops of nearby buildings.
"It was a good strike. And we estimate that it served to deprive ISIL of millions of dollars," said General Lloyd Austin, head of the US Central Command, to CNN.
Officials did not say exactly how much money had been there or what currency it was in, but the stockpile was described as consisting of "millions."
"Combined with all of the other strikes that we've done on ISIL's gas and oil production and distribution capabilities and strikes against his economic infrastructure and the various sources of revenue, you can bet that (it) is feeling the strain on his checkbook," added General Austin.
There has been an increase in airstrikes in the region since November and December, with the Air Force surpassing more than 3,100 dropped bombs for the first time during Operation Inherent Resolve. Critics have complained that the US has not targeted IS' finances as aggressively as it could at times.
"By the time we get to the end of 2016, I hope to be pretty well done with Daesh," Lieutenant General. Charles Brown Jr, commander of US Air Forces Central Command, recently told Air Force Times. "That's probably aspirational, but I think we are putting pressure on Daesh."
The air war against Islamic State has cost American taxpayers $5.5 billion, or roughly $11.2 million per day, since June, according to the latest Defense Department data. More than 50 percent of that has been used for daily flights over Iraq and Syria.
Speaking at a news conference in Florida on Thursday, General Austin said Islamic State jihadists will likely increase the tempo of their attacks around the world as they come under increased pressure in Iraq and Syria. He told CNN this will not be the first strike on an IS cash storage site.
"ISIL needs those funds to pay their fighters, to recruit new fighters and to conduct their various maligned activities," Austin said, according to Agence France Presse. "You know, we said from the outset of this campaign that to defeat ISIL, we're going to have to take away its ability to resource itself."
Austin, who has headed CENTCOM since March 2013, will soon retire and President Barack Obama will nominate Special Operations Command Chief Joseph Votel as his replacement.
You can share this story on social media: