Oregon militia member arrested over stolen wildlife refuge vehicle – reports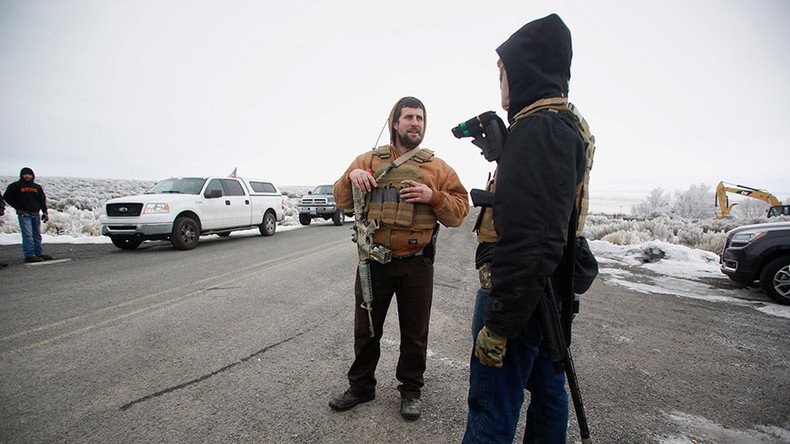 Police arrested a man involved in the armed protest at the Malheur National Wildlife Refuge in Burns, Oregon on Friday, after he allegedly drove into town in a vehicle belonging to the preserve, local media report.
The arrest marks the first time anyone in connection with the protest has been detained by law enforcement.
According to Oregon Live, the suspect was identified as 62-year-old Kenneth Medenbach, a resident of Crescent, Oregon. He was detained after arriving at a local grocery store in a vehicle from the refuge featuring federal government license plates and charged with unauthorized use.
"He was arrested on probable cause for unauthorized use of a motor vehicle," the Harney County Sheriff's office said in a statement.
Police in Burns have arrested a Crescent, Oregon, man for auto theft. They say they recovered two vehicles stolen from the refuge.

— Pat Dooris (@PatDooris) January 15, 2016
Notably, the vehicle Medenbach was discovered in wasn't the only one at the store belonging to the government, Oregon Live reported. Another was parked next to him, but the individual believed to have driven that vehicle into town was not present at the time of the arrest.
Additionally, police said Medenbach is on federal probation for participating in a separate militia-related incident last year.
"The US Fish and Wildlife Service is grateful for the quick actions from law enforcement," Megan Nagel, a spokeswoman for the US Fish and Wildlife Service, which manages the refuge, told the Oregon Live. "We will continue to work with law enforcement to recover vehicles bought and paid for by the American people to care for their national wildlife refuge."
Whether the arrest leads to an escalation or represents a change in strategy by law enforcement remains to be seen. A group of armed protesters has now been occupying the wildlife refuge for roughly two weeks to counter what they believe is government overreach. They argue that federal ownership of the land is unconstitutional and that it should belong to the local community.
On Friday, leaders of the militia were expected to hold a meeting in order to detail their exit plans, among other things. However, multiple reports suggest that meeting has been cancelled.
You can share this story on social media: