Wall Street in Panic: US stock markets close with biggest losses since September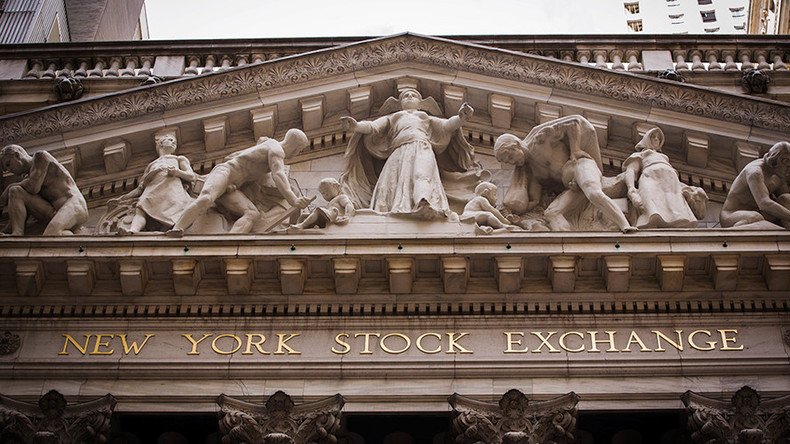 The Dow Jones Industrial Average lost 391.86 points (2.39 percent) on Friday, making it the largest daily point loss since September of last year. The sell-off was triggered by plummeting oil prices and turmoil in Chinese markets.
The Dow hasn't seen such a momentous loss since September 1, 2015, when it lost 469.68 points (2.84 percent).
Additionally, the S&P 500 suffered a loss of 41.57 points (2.16 percent) by the time of closing, and Nasdaq Composite lost 126.59 points (2.74 percent) by 4 p.m. EST.
The S&P 500 fell below its August low of 1,867, trading more than 3 percent lower by midday. The Dow also showed a drop of more than 3 percent, losing over 500 points. The Nasdaq composite lost more than 4 percent during the same period.
The sell-off dashed hopes about stability on Wall Street, coming just a day after US markets had their best rally in over a month. On Thursday, the Dow had jumped 228 points, a nearly two percent increase for the day.
The panicked selling was sparked by a nearly 6 percent slide in US-produced crude oil that pushed prices below the critical $30 a barrel mark. Investor anxiety in mainland China compounded global worry, with the Shanghai Composite closing at a 3.6 percent loss, hitting a one-year low.
US crude oil saw a loss $1.78 (5.71 percent), putting it at $29.42 a barrel. This is the first the time price settled under $30 in 12 years.
The Federal Reserve's recent policy of hiking interest rates may have led financial professionals to sell equities, according to Boom Bust's Edward Harrison.
"Many analysts look at markets as forward-looking, meaning they rise or fall in anticipation of how earnings and the economy will fare in the future." Harrison said. "Therefore, many market watchers are taking the recent fall in equity markets in the US and globally are a sign that financial conditions have tightened too much in the wake of the Fed's first rate hike. This should be a signal to the Fed that its present tightening policy bias now carries significant downside risk both for markets and the real economy."
The Dow industrial and the S&P 500 indexes have dropped nearly 9% so far this year, while the Nasdaq has slid by 11%.
You can share this story on social media: