'Hood rats' and Tasers: NYPD cop outed for incendiary social media posts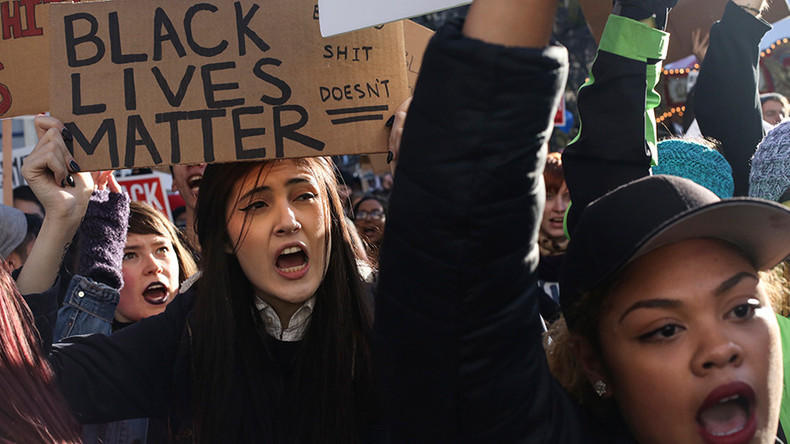 A New York City police officer was slammed by local activists and dismayed a local councilmember for what critics called incendiary and racially charged social media posts. Police brass have warned officers about using personal media sites.
A screenshot on the Twitter account @newyorkyearzero shocked Black Lives Matter organizer Keegan Stephan, who ultimately found that a police officer was behind the controversial post.
"I saw a screenshot of the… Instagram post which identified another Instagram user, Longone, wearing the T-shirt that says 'I [handcuff] PrOTesters,'" Stephan told RT on Thursday. The capitalized "OT" refers to overtime.
Stephan visited the Longone Instagram account and found it included photographs of New York Police Officer Langone of the 103rd Precinct in Queens and his colleagues. The officer's first name is not currently known.
"I was taken aback and pretty upset that the person who was proudly wearing the 'I [handcuff] PrOTesters' T-shirt was an NYPD officer, because I am a protester in New York City and the idea that an officer here views protest as something to make an arrest of and make overtime off is bothering."
Scrolling further down the officer's page, Stephan said he found other, more disturbing, racially charged posts, some of which featured violent memes including guns and knives.
One of them suggested errant behavior would get someone Tasered.
In response to media requests, an NYPD spokesperson reiterated its policy about social media.
"Members of the service utilizing personal social media sites are to exercise good judgment and demonstrate the same degree of professionalism expected of them while performing their official duties," said the NYPD, according to the Gothamist.
"Members of the service should be aware that activities on personal social media sites may be used against them to undermine their credibility as members of the Department, interfere with official police business, compromise ongoing investigations and affect their employment status with the Department."
Protesting the Longone messages, Stephan named the precinct in his own posts and added links to the Instagram account.
The named precinct subsequently blocked him as a follower.
In discussing the posts, Stephan said that he and his activist friends agree that many people believe the police view their communities as war zones and that the posts prove that these kinds of thoughts are not isolated to one individual officer.
"This person was tagging other officers in his posts, and other officers were 'liking' his posts. The Off Duty Outfitters [which ran the original Instagram post and creates T-shirts for police] is run by an NYPD officer and it makes many offensive posts," said Stephan. "It's an institutional problem, and that is what we trying to address with our actions. We are trying to address this institutional problem of these officers who are charged with protecting and serving a community and view it as adversarial."
According to the Gothamist, Off-Duty Outfitters features posts of shirts bearing slogans like "Running Toward, Never Away," and some with photographs of guns with handcuffs laid over the shirts. Other posts include anti-welfare memes and posts.
The news outlet's story prompted Queens Councilman Rory Lancman to ask the NYPD to take action.
"I'm deeply disturbed by the reprehensible Instagram posts of a police officer in the 103rd Precinct, which covers a significant portion of my district. It's completely unacceptable for someone who has sworn to protect our city to post messages advocating violence and referring to community members as 'hood rats.'"
"Such comments erode public confidence in our police and undermine our efforts to improve police-community relations. I urge the NYPD to take immediate disciplinary action and make it clear that such behavior will not be tolerated."
You can share this story on social media: