Crush or obsession? Website tracks US media's pro-Trump bias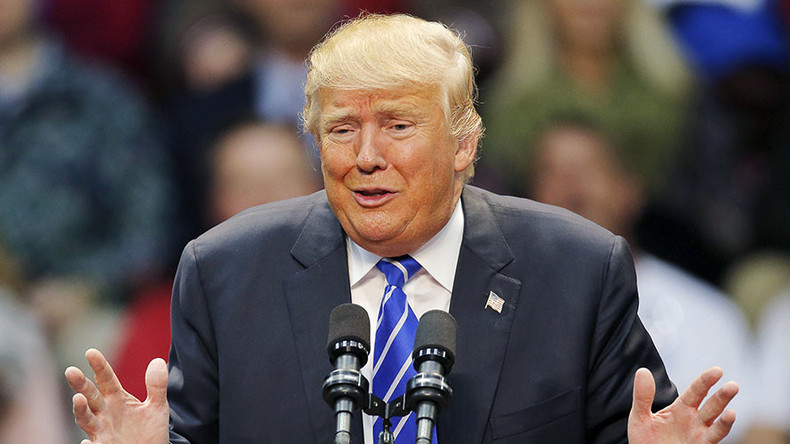 Republican presidential candidate Donald Trump has dominated coverage of the 2016 election, especially after his controversial comments about Muslims, and the numbers from new research prove it.
Daily Trump mentions on television jumped to 80 percent of all candidate coverage after he claimed last month that Muslims were dancing in the streets after the attacks on 9/11, according to data compiled by the Internet Archive's Television News Archive.
Trump mentions are now at 60 percent.
The Archive monitors networks including Bloomberg, CNBC, CNN, Comedy Central, Fox, MSNBC, and a selection of local affiliates in Philadelphia and San Francisco.
All this airtime has given Trump plenty of opportunities to spread his views, including his controversial comments about Latinos, Muslims and progressives. Many critics have called Trump's comments offensive and have accused him of inflaming anti-immigrant sentiment.
While Trump's antics drive viewers and ad dollars, media critics say these news outlets are shirking their obligations to public service by not providing a balance of voices.
Trump remains the frontrunner in the Republican party contest, although Texas Senator Ted Cruz has surged into second place.
Despite the media's Trump crush (or obsession?), it may not be enough to beat the candidate largely ignored, Vermont Senator Bernie Sanders.
A December study by The Intercept examined mentions on ABC, CBS, CNN, and NBC over a 30-day period and found 690 Trump mentions versus just 20 for Sanders.
A Media Matters report showed ABC World News Tonight dedicated 81 minutes to Trump and just one minute to Sanders over the past year.
Yet despite this disparity, Real Clear Politics, which tracks the ongoing opinion polls, shows Sanders with a two-point lead against Trump in the general election whereas Hillary Clinton and Trump are in a dead heat in a potential general election matchup.
The latter pair also have to overcome their "unfavorables".
A Gallup poll last month found that while 91 percent are familiar with Trump, just 32 percent had a favorable view of him. Hillary Clinton's "negatives" are back up to 53 percent, nearly matching her 2008 levels when she failed to beat Barack Obama, prompting some to call her "unelectable".
You can share this story on social media: