US National Intelligence director's personal email accounts hacked – reports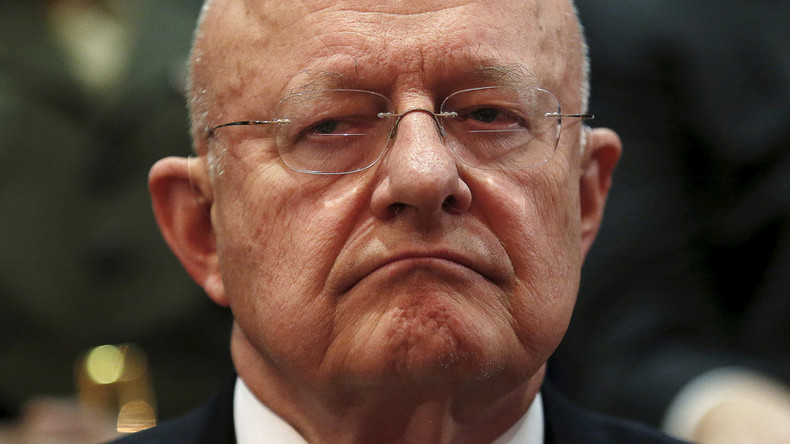 Personal email and other accounts connected to Director of National Intelligence James Clapper were hacked, according to a report by the Associated Press, which cited an intelligence official.
Clapper would be the second high-ranking American intelligence official to have his personal accounts breached in roughly three months. In October 2015, the personal email account of CIA Director John Brennan was also hacked.
The same individual, a teenager, who claimed to have breached Brennan's account is also behind the attack on Clapper's emails, Vice's Motherboard reported. The hacker, who goes by the name 'Cracka' online, claimed that officials were not aware of the attack.
According to the AP, however, DNI spokesman Brian Hale said the incident was known about before Motherboard's report was published, and that the proper authorities have been notified of the situation.
The alleged hacker said he gained access to a number of accounts, including Clapper's personal home phone and internet accounts. Clapper's personal email and the Yahoo email belonging to his wife Susan were also breached, Cracka told Motherboard.
The hacker also stated that he was able to reroute calls intended for Clapper's home phone to the Free Palestine Movement, a pro-Palestine advocacy group.
When discussing the hack of Brennan's personal accounts in October, it was reported that the hackers were "motivated by opposition to US foreign policy and support for Palestine."
A similar explanation was given to Motherboard for the Clapper incident.
"You Asked why I did it," Cracka said. "I just wanted the gov to know people aren't f***ing around, people know what they're doing and people don't agree #FreePalestine."
Meanwhile, security expert Michael Adams, who worked for US Special Operations Command, said it was "insane" that Clapper's personal information wasn't concealed better.
"If I'm the Director of National Intelligence of the United States of America nobody is going to know where the f*** I live, nobody is going to have my goddamn phone number or address," he told Motherboard.
So far, it's unclear if anything other than some of Clapper's personal information has been exposed. When Brennan's accounts were hacked, documents and draft papers detailing the CIA chief's thoughts on torture and Iran were stolen and published later by WikiLeaks.
You can share this story on social media: