Climate change on trial in case of Delta 5 oil train protesters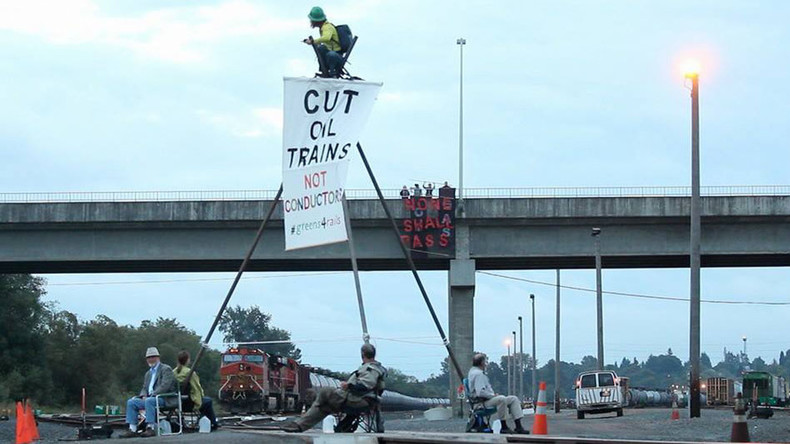 Protesters who blocked a US oil train can argue in their trial, which started this week, that their actions were necessary to prevent greater harm caused by climate change, following an unprecedented ruling by the presiding judge.
In September 2014, protesters known as the Delta 5 tied themselves to a 25-foot tripod on a rail line in the US state of Washington to block a train carrying crude oil.
Their actions shut down work at the train's destination rail yard, which is used to transport crude from North Dakota and Montana to nearby oil refineries and export coal to Canada.
As part of their defense, defense lawyers will call Richard Gammon, a University of Washington scientist who will help lay out the argument that climate change is more dangerous than the group's alleged crimes of trespassing and blocking a train.
"Conduct is justified if it is necessary and appropriate to avoid harm clearly greater than the harm which might result from such conduct and the situation developed through no fault of the actor," argued the defense.
Only days before the trial, the judge rejected their use of the necessity defense based on previous cases, but after a Motion to Reconsider was filed, the decision was reversed.
"We are thrilled that we're able to argue the necessity defense," Abby Brockway, one of the five defendants and member of Rising Tide Seattle, told the US program Democracy Now! "This is our last chance to actually argue this… so we're going to move forward with a week-long trial and talk about why we had to be trespassing… in the rail yard."
The group wants a rejection of permits for all new fossil fuel projects in the state of Washington and a halt to the transport of fossil fuels through the Pacific Northwest.
The group are concerned over the transport of oil, particularly the highly-volatile Bakken oil carried by the derailed train that exploded and killed 47 people in Lac-Megantic, Quebec in 2013.
READ MORE: Obama admin balked at improving standards for gas in oil 'bomb trains' – report
A report by the Sightline Institute says "Northwest oil train terminals" could produce an extra 114,000 barrels per day, resulting in 30 million tons per year of carbon dioxide, "the equivalent of doubling the number of cars on the road in Oregon and Washington".
"There came a point where I could no longer sit back and wait for the politicians to act," said Delta 5 member Patrick Mazza told Grist. "I had to put my body on the line to demand not talk, but action on a massive scale to rapidly replace fossil fuels."
You can share this story on social media: