'Spit hood' restraining mask used by Michigan cop to suffocate inmate – lawsuit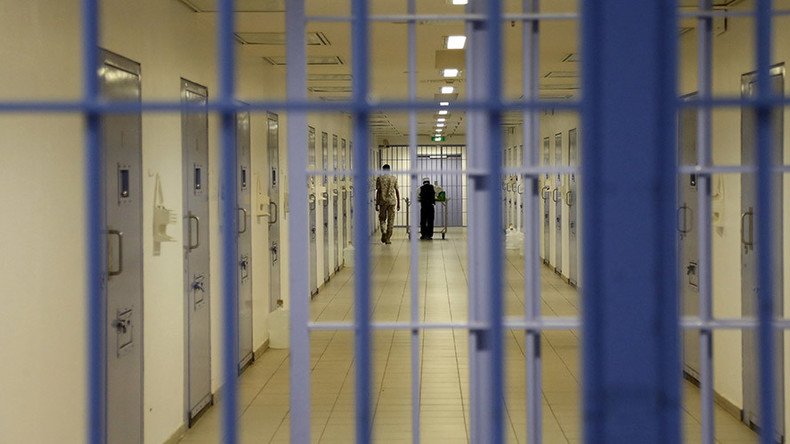 A widow is suing Midland County, Michigan and numerous officers for causing the death of her husband. The primary complaint revolves around the use of a "spit hood" he was forced to wear that the sheriffs refused to remove, ending in his asphyxiation.
Jack Marden was taken to jail on an outstanding warrant for felony assault on February 4, 2015. A week later, he died strapped to a chair, wearing no clothes apart from a white mesh mask officially employed to protect prison guards from being spit upon.
After a short encounter with healthcare workers, Marden, 56, got contentious with Midland County sheriffs, reports the Guardian, based on access to lawsuit documents, court papers, and hand-held recorded video of the incident from a worker in the jail. The video shows him erratically taking off all of his clothes as officers wait outside the cell.
Marden, who weighed 205 pounds, had been speaking belligerently, reportedly saying "people were trying to hurt him" and "that the French government was confiscating his money." Police said he exhibited "superhuman strength," requiring a riot squad-like response time from authorities who charged in. The helmeted and armored officers tackled him to the ground in order to ready him for a transfer to a hospital.
An incident report alleges that a deputy hit Marden on the head after Marden "grab[bed] his testicles and squeeze[d]," and a spit hood was used after Marden had "begun to manipulate his mouth as if he intended to spit."
Very soon after the spit hood was placed on Marden, a father of two, he experienced a "severe anoxic brain injury," the lawsuit says.
Neighboring Mecosta County found in its review that Marden's treatment was aligned with policy, and no one involved was suspended.
In an interview with the Guardian, Dr. Ron Martinelli, a forensic criminologist and former detective with the San Jose Police Department, said spit hood devices are used when a prisoner is "biting or spitting" or because of "bloodborne pathogens."
"You don't want to get that spit in your eye … because if he's contagious you're going to get contaminated. It can cost you your life," Martinelli said. "So that is definitely a reason why they would put a spit mask on."
Sharyl Marden's lawsuit is not the first to complain of how spit masks were used. In October of 2015, Metro County, Tennessee was court ordered to pay $150,000 to settle a case of an intoxicated inmate who died after telling officers he couldn't breathe while wearing the mask.
In March of 2015, a 19-year-old Clay County, Florida inmate was killed after being maced in the face and then covered with a spit mask. In 2013, a 41-year-old man died after having a spit mask placed on him in a Milwaukee County jail.
The Guardian also interviewed Edwin Budge, a Seattle-based attorney, some of whose clients have been forced to wear the mask.
"They're breathing hard, or attempting to breathe hard, because they have a greater need for air," Budge said. "When you put that all together, the combination of forcible restraint, the increased need for air… they are, in my opinion, extraordinarily dangerous."
In the video accessed by the Guardian, one of the deputies involved in the case, Jeffery Derocher, could be heard futilely trying to calm Marden down while the mask was on.
"We're trying to let you breathe, brother," Derocher says. "You've got to relax, though. You've got to stop fighting us, man."
Then Derocher calls a nurse, saying, "He's got agonal breathing and shit."
"Agonal breathing is extremely serious," Martinelli told the Guardian. "It could be deadly. It is usually an indication that death will come shortly."
Speaking generally, not specifically to the Marden case, Martinelli added, "You don't leave the mask on. You do everything you can … to facilitate breathing."
Marden's mask was removed only after several minutes of struggling with officers. One of the officers asks the nurse, "Do you want to try to get that mask off, or do you want to leave it on so he doesn't spit?" to which the nurse replied, "I would like to get it off; I think it might help him breathe."
By this time, officers were moving him to a restraining chair, telling him to relax again.
"His hands are really discoloring now," one deputy says.
Within seconds, Marden was unconscious. The lawsuit says he was in acute pulmonary arrest upon arrival at the hospital, where he was kept on life support for two days before his wife finally received news of the incident. The machine sustaining Marden's body was then turned off. The lawsuit explains the reason for his death as acute respiratory failure "due to a severe anoxic brain injury secondary to cardiac arrest."
Marden's medical history is documented, which the police "knew about," says Jules Olsman, the attorney for Marden's widow.
"Plus, he had a prior history of a prior cerebral aneurysm, and this guy's whaling on him in the head," Olsman said. "So [it's] very bad, the whole thing all the way around."
You can share this story on social media: