Elon Musk says Tesla's self-driving feature is 'probably better than a person right now'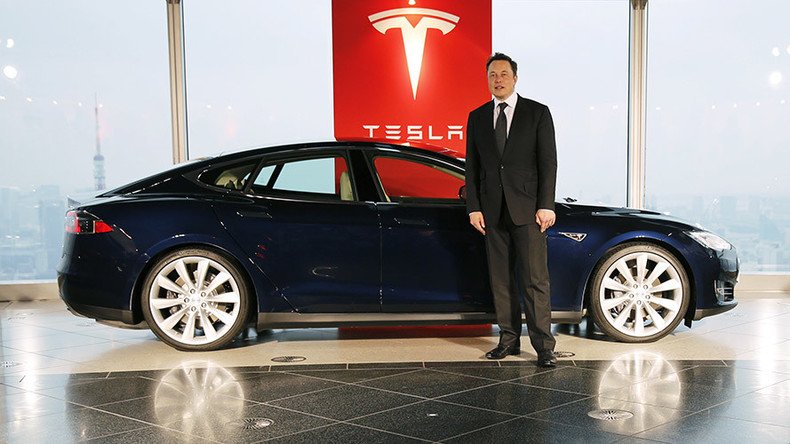 Tesla says that fully self-driving cars will be ready for roads in just two to three years. For now, the company has rolled out a software update that enhances cars' autopilot and allows it to be remotely "summoned" in and out of garages without a driver.
In what might seem like a second Christmas for Tesla owners, software version 7.1 was delivered to them as an over-the-air update on Saturday. It gives the users of the iconic electric cars a few new toys to play with.
The autopilot feature has seen significant improvements, but comes with new limits on where the futuristic technology can be used. The intelligent system can now recognize curves on the road better and adjust the vehicle's speed based on the information. However, drivers – or, perhaps more accurately, riders – can no longer use it in residential areas or on streets without a divider.
Nonetheless, the CEO believes that autonomous driving will be ready for a true release within the next 24 to 36 months, when Tesla cars "will be able to drive virtually all roads at a safety level significantly better than humans."
"It's probably better than a person right now," Tesla CEO Elon Musk said during a conference call with reporters on Sunday.
Tesla's autopilot software collects data from every Tesla car on the road and analyzes it in the company's intelligence network, improving the system's understanding of how drivers behave in certain situations and specific areas. Though it's still in beta, the accumulated experience is then passed on to individual cars in the form of regular software updates.
Musk told reporters that he concluded the updates were necessary after seeing dozens of videos of people doing unsafe things with the autopilot systems and posting the videos online.
Perhaps the most significant piece of the 7.1 update is the long-awaited "summon" feature, which is also still only in the beta testing phase.
READ MORE: Elon Musk unveils Tesla Model X, his safest, most feature-packed vehicle yet
"You can summon the car from your key fob or phone through a pull-down menu, it will open the garage door, back out of the garage, close the garage door, and come to you," Musk said.
Since it's still in the early testing phase, it's still limited to navigating parking spots and driveways, but Musk expects the system to become far more impressive in the near future, perhaps with cross-fertilization from its autopilot feature.
"In two years you'll be able to summon your car from across the country," Musk said, adding that, though his timeframe might be a tad on the optimistic side. "If your car is in New York and you are in Los Angeles, it will find its way to you."
You can share this story on social media: