I am a survivor! Ex-cancer patient hits back at trolls for 'Meth Curry' meme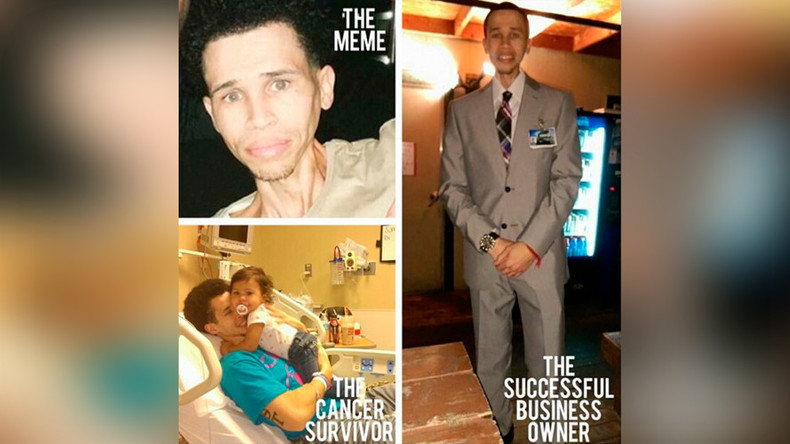 A cancer survivor who was compared to a basketball star on meth in an internet meme has stepped forward to explain the devastating effects the illness has on the human body.
Leon Mitchell, 31, from Washington, became the subject of a cruel online phenomenon when pictures of him undergoing chemotherapy were picked up by internet trolls.
The meme likened Mitchell, who overcame the deadly disease, to NBA point guard Stephen Curry – if he were a meth addict.
However, after battling cancer Mitchell was not about to let "cruel" and "distasteful" people get the better of him on the internet.
He has posted an inspiring post on Instagram, describing the impact cancer had on him and reminding people he is much more than a meme.
"I was the butt of a not so funny meme "Meth Curry" directed at the outward physical appearance that I display," he said in the post.
"The fact that the meme was posted was a reminder of how distasteful and cruel people can be without background knowledge of the person in the bullseye of the target.
"I've struggled deeply for years with the devastating effects cancer treatment plagued on my body with."
He explains how treatment had a "massive destruction" on his neck, shoulders, nose, throat, and "ability to function properly".
Now stronger after his experience, Mitchell said people should think twice before posting social media content which "can be massively detrimental to some who still battle with insecurities".
"If we are going to allow something like this go viral let's do it for the right reasons! I am more than a meme, I am a father, husband, survivor, mentor, community advocate, and positive motivational speaker. Proud to have endured and conquered everything I have," he added.
You can share this story on social media: