Gun-ho: Open carry now allowed in Texas ... including in state-run psychiatric hospitals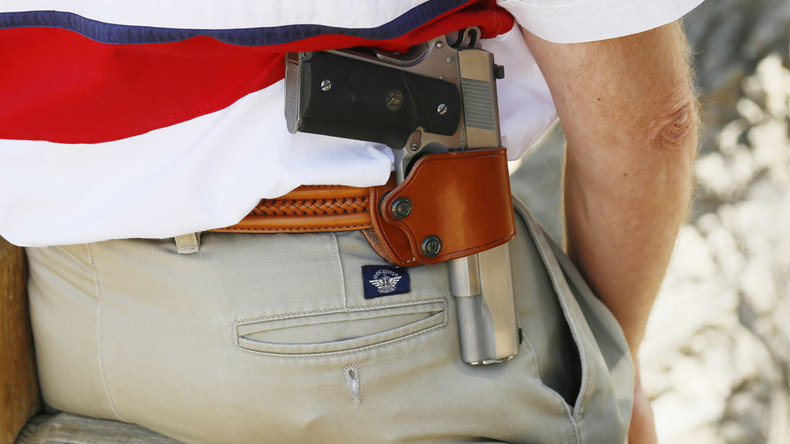 Austin State Hospital, the oldest psychiatric hospital in Texas, has taken down its signs banning guns. The move is in line with the state's new firearms law which allows the open carry of guns in state psychiatric hospitals.
10 days on from the enactment of the new open carry gun law and the real impact is being felt.
READ MORE:Right to 'bare' arms: Open carry to become legal in Texas
Mental Health advocates have condemned the law, saying it could negatively impact patients' treatments and could lead to an increase in suicide rates.
Greg Hansch, the public policy director of the Texas branch of the National Alliance on Mental Illness, said his group is opposed to people bringing guns onto the grounds of state psychiatric hospitals, arguing that "it fosters fear and will be detrimental to the recovery of persons receiving treatment."
Hansch added that he is worried that allowing guns in mental hospitals will make it easier for suicidal people to kill themselves. Of the roughly 30,000 gun deaths in the US each year, around two-thirds are ruled suicide, he said.
Licensed gun owners can now bring their firearms into all 10 psychiatric hospitals operated by the state of Texas as the result of a loophole that was not closed when the new law passed last summer, according to the Austin American-Statesman's report .
Psychiatric institutions are not subject to the same exemption as general hospitals because they are in a different section of the state's health and safety code.
Kirk Watson, a Democratic state senator, said the amendment he proposed to address the loophole was shut down without a debate.
Texas is now the largest state to allow a version of open carry – California, Florida, Illinois, New York and South Carolina still ban the practice.
Guns can be shown in open view but must be carried in a shoulder or belt holster.
Nearly 914,000 Texans ‒ or almost 4 percent of the state's 27 million residents ‒ have a current license to concealed carry firearms, according to Forth Worth Star-Telegram, citing the Texas DPS. That's up from 826,000 in 2014.
The change means delivery people, visitors and more will be able to bring guns into psychiatric facilities.
Employees are still prohibited from bringing guns to work.
"While licensed visitors are legally permitted to carry on our hospital campuses, our patients are being actively treated for psychiatric conditions, and generally it's best not to expose them to weapons of any kind," Carrie Williams, spokeswoman for the Department of State Health Services, told the American-Statesman.
Alcohol and tobacco are still banned from the hospitals' campuses, however.
Apart from general hospitals, the new law prohibits firearms in schools, courthouses, prisons, sports events and bars.
Private businesses such as supermarkets and restaurants can choose to opt out, either by verbally informing customers that guns are unwelcome or by posting signs in English and Spanish at their entrances.
Some church pastors and even banks are allowing the practice.
The First Baptist Church of Arlington, opted in.
"We decided it was best to allow responsible people to do this if they choose," Senior Pastor Dennis Wiles told the Wall Street Journal. "We will probably assess the situation in a couple of months to see how it goes. When it comes to a church, I don't think we're going to see that much difference."
The legislation has caused confusion, however, especially around multipurpose public buildings where open carry is permitted in some areas but not others.
The Houston Independent school district advised community members that guns can be carried in school parking areas and driveways, "but only during times when a school-sponsored activity is not being conducted in the parking lot, driveway, or other parking area.
Zoos have also proved contentious, with several that are privately-funded but located on public land arguing they are exempt; the Houston zoo argues that it should be treated as an educational institution.
You can share this story on social media: