'Can't arrest a robot': Snowden's hi-tech disguise surprises audience at Vegas convention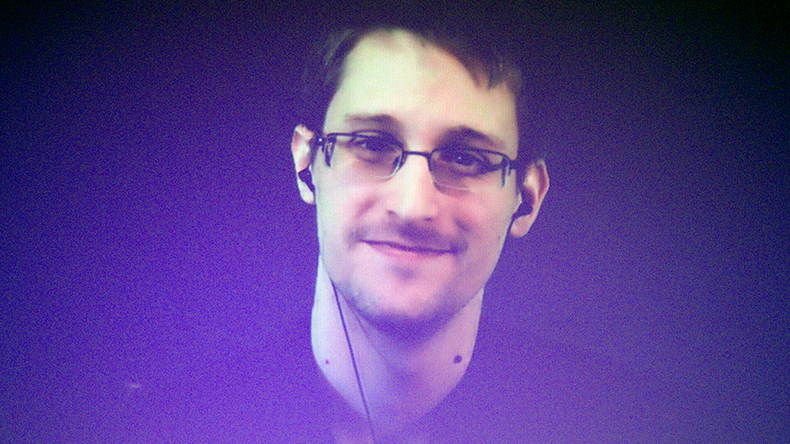 Appearing on a telepresence device, former National Security Agency contractor-turned-whistleblower Edward Snowden talked cybersecurity and playfully taunted the US government, saying, "The FBI can't arrest a robot."
The Consumer Electronics Show in Las Vegas features cutting edge technology, but the biggest surprise this year was a whistleblower. Snowden showcased the Beam, a screen-on-wheels robot by Suitable Technologies for offices facilitating virtual meetings.
"This is the power of Beam, or more broadly the power of technology," Snowden told Dr. Peter Diamandis, founder of Xprize Foundation and executive chairman of Singularity University, who joined him on stage.
"The FBI can't arrest a robot," Snowden said.
Snowden was optimistic about artificial intelligence, virtual reality, and other up-and-coming technologies, but warned, "They don't really think of the security of these things very much."
"Technology is both a tool for oppression and a tool for liberation," Snowden said, adding that government surveillance and bulk data collection "can create a chilling effect."
According to Snowden's lawyer, Ben Wizner of the American Civil Liberties Union, Snowden received no compensation for his presentation and interview, but "he has benefited from the technology," Wizner wrote in an email to The Guardian.
"What if you could commute to work without having to sit in traffic?" Snowden said. "The US government basically canceled my passport, but I'm sitting here in Las Vegas with you guys at CES."
Diamandis then changed the subject to Snowden's criminal charges, asking him if he would like to return to the US.
"Absolutely," Snowden answered, but he isn't ready, explaining that he lacks confidence that the US will treat him well, as they have only promised so far not to "torture" him.
You can share this story on social media: