Critics call for Michigan governor's resignation, arrest over Flint's contaminated water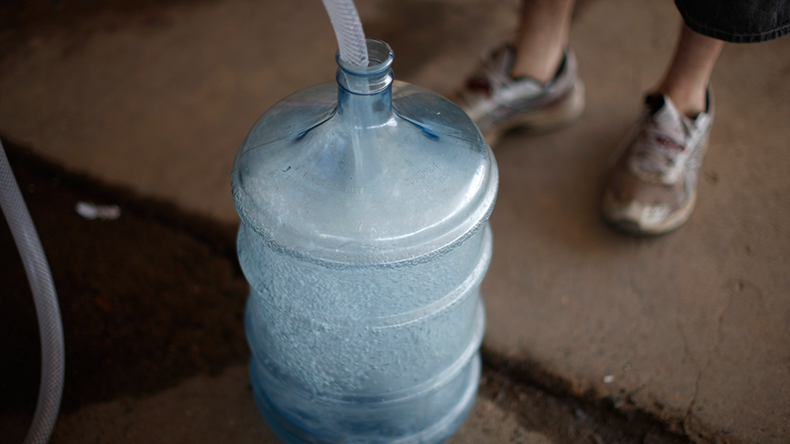 Emails show that high-ranking officials in Michigan were aware of elevated lead levels in Flint's water six months before the state of emergency was declared. Calls are mounting for the governor to resign or face criminal charges.
Internal emails, obtained by NBC News, were written by Governor Rick Snyder's former chief of staff, Dennis Muchmore, to the state health department saying he was frustrated by the water issue in Flint.
"These folks are scared and worried about the health impacts and they are basically getting blown off by us (as a state we're just not sympathizing with their plight)," Muchmore wrote in the email, according to NBC News.
"I really don't think people are getting the benefit of the doubt," Muchmore continued. "Now they are concerned and rightfully so about the lead level studies they are receiving."
About 200 Flint residents rallied outside City Hall on Friday, many of them calling for Governor Snyder to resign or face criminal charges over the poisoned water scandal.
A retired General Motors worker who attended the demonstration told the Detroit Free Press she believed Snyder had knowledge of a health risk to Flint residents long before the state acted to address it, and the governor needs to be held accountable.
"We haven't seen the worst yet, with these children coming up," Sharon Owensby said, referring to brain damage and other health effects that children can suffer as a result of lead poisoning.
The call is supported by Flint's most famous former resident, filmmaker Michael Moore, who first drew attention the rampant poverty in the city after the motor industry ditched the town, in one of his early documentaries Roger & Me.
Moore has started a petition on his website and is calling for the governor to be arrested on charges of corruption and assault. Moore directly addresses Snyder on his website saying, "The facts are all there, Mr. Snyder. Every agency involved in this scheme reported directly to you. The children of Flint didn't have a choice as to whether or not they were going to get to drink clean water."
The problem with Flint's poisoned water began in April 2014, when the city in a cost cutting measure switched from receiving Detroit's water supply and began using the water from the Flint River. The water had high salt content and was piped without treatment into homes and offices. The salt corroded the lead in the pipes, causing the water to be contaminated. Residents complained about dirty looking water, with a bad smell, and bad taste. Then record high lead levels started appearing in blood samples of children.
On Tuesday, Snyder declared a state of emergency over Flint's contaminated water. The announcement came less than a month after Flint's mayor declare the same, saying the city's water was causing elevated levels of lead in children.
The city switched the water supply back to Detroit in October and began treating the pipes, but significant damage has already been done. Flint Mayor Karen Weaver called the water contamination "a manmade disaster" and said the costs for treating and repairing the water distribution system will likely be $1.5 billion. State officials have warned Flint resident not to drink their tap water without using a filter to strain out lead.
The Department of Justice also announced this week that they are launching an investigation into the issue.
You can share this story on social media: