Gary Johnson announces 2016 presidential bid, seeks Libertarian Party nomination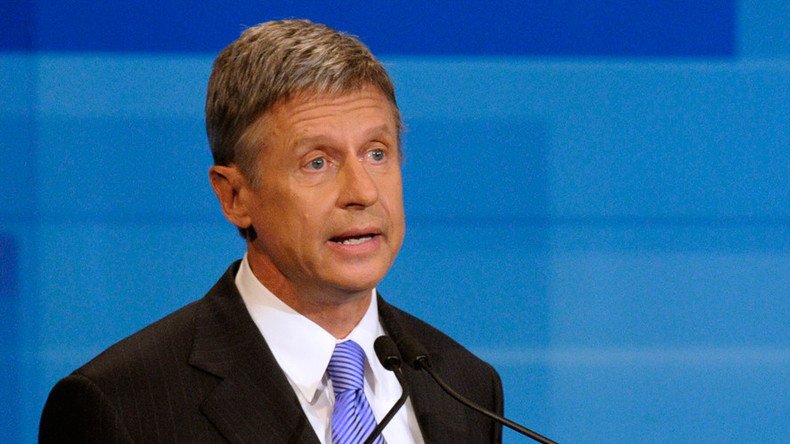 The 2012 Libertarian Party presidential nominee Gary Johnson has formally entered the 2016 campaign, hoping to be "the voice of reason" against the two major parties. The former governor of New Mexico bills himself as a "classic liberal."
"I want to take this opportunity to announce my candidacy for president. I am hoping to get the Libertarian nomination for president in 2016," Johnson said on the Fox Business Network on Wednesday.
"On my deathbed, I'm hoping that I look back and believe that I was the voice of reason in all this, regardless of how many votes I end up garnering," he added.
Last election cycle, Johnson appeared on the presidential ballot in 48 states, garnering 1,275,971 votes, just shy of one percent. It had been three election cycles since a third party candidate, Ralph Nader with the Green Party, had that strong of a showing.
To close watchers of politics, Johnson's return to the presidential field was predictable. After the 2012 election, he carried on his platform through a 501(c)(4) organization called Our America Initiative. Through OAI, Johnson is suing the Commission on Presidential Debates to give third parties greater access to the general election debates. As it stands, a candidate must poll at 15 percent or above to qualify.
Johnson isn't playing down his Republican roots though. In the 1990s, he won two consecutive gubernatorial elections in New Mexico, no small feat in a state that voted two-to-one in favor of Democrats. In that office he became known as "Governor Veto" for vetoing 750 bills, but he also gained notoriety in that office for promoting the idea that marijuana ought to be legalized, decades before Colorado and Washington actually enacted such laws.
Johnson is known for his stance against the War on Drugs, but it isn't his top issue for 2016. The debt is, and to fend off a monetary collapse, Johnson says he will rein it in by balancing the budget. That means reforms to entitlements and cuts to military spending.
Marijuana will not be as prominent an issue for Johnson as it once was, but it isn't going away either. To run for president this time around, Johnson stepped away from his position as CEO of Cannabis Sativa, a startup company that markets marijuana products. The budding industry, legalized in four states and the District of Columbia, is still restrained by federal intransigence. In a recent interview with Reason, Johnson shared his frustration.
"Every product manufactured in those states has to be grown, processed, and packaged in those individual states," Johnson said. "That is not the best scenario for the consumer."
In the same interview, Johnson took aim at his potential competition, Republican frontrunner Donald Trump.
"He is appealing to a segment that I'll just label 'racist,' and it exists and it's out there, and you know what? I don't want anything to do with it," Johnson said.
But Johnson does understand Trump's allure, saying it is "the same basis that got me elected governor. 'Look, I'm not for sale. I'm paying for my own campaign. I'm gonna get in and do the right thing.' The system is corrupt."
Johnson has also ridiculed the idea of another Bush or Clinton living in the White House. To separate himself, his first video ad featured on his campaign site is titled "Handy Man." It highlights how before his stint in politics, he started a small business that would end up growing into New Mexico's largest construction company, making himself a millionaire. It also notes his adventurous side, competing in Ironman Triathlons as well as climbing Mt. Everest.
Other announced candidates for the Libertarian Party presidential nomination are Austin Petersen, an entrepreneur and activist, and John McAfee, a cybersecurity expert. Jesse Ventura, former governor of Minnesota and political commentator, has expressed interest in running.
You can share this story on social media: