'I'd check the podium for onions': Fox pundit questions Obama's 'raw' emotions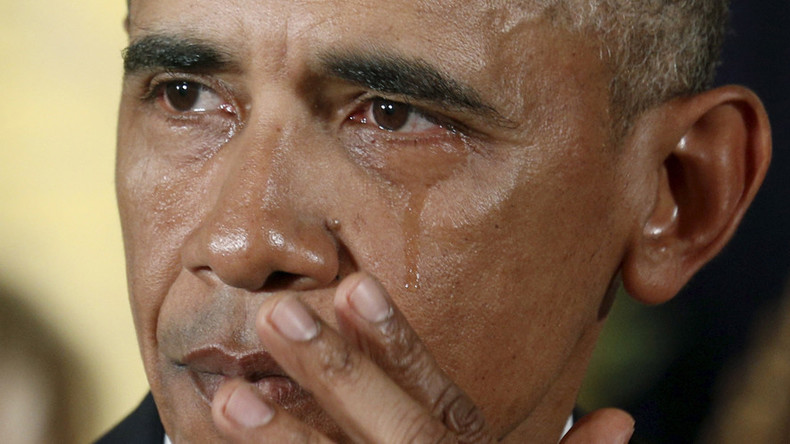 President Barack Obama teared up as he announced his plan to use executive action to expand background checks for gun ownership. However, Fox News host Andrea Tantaros was more interested in theatrics than the substance of his speech.
During the announcement on Tuesday, Obama brusquely brushed away tears as he mentioned Chicago's gun violence problems as an example of the need for tighter background checks.
However, the Fox panel was not buying it.
"The tears that he wiped away, again and again, you want that – I mean, we feel frightened about what's going on with ISIS," said Fox News co-host Melissa Francis.
"He's almost at the end of his term and you haven't heard him go to Chicago and really speak out about this issue," said co-host Andrea Tantaros.
At the end of October, Obama traveled to Chicago to discuss gun control and the importance of extending background checks. Between January 1, 2015 and May 30, 2015, there were 161 murders in 151 days in Chicago and 2,783 illegal guns recovered during that six-month period, according to the Chicago Sun-Times.
Tantaros said that she would "check that podium for like a raw onion or some No More Tears."
Obama did not appear to be slicing onions on the podium, however. No More Tears is a Johnson & Johnson line of bath products designed to prevent babies from crying if they get soap in their eyes.
Tantaros and Fox News were not the only ones who weren't impressed with Obama's plan. A lot of the internet didn't seem to get the message, with presidential candidates, the National Rifle Association and gun owners alike taking to Twitter and getting all "up in arms."
In the wake of Obama's announcement, gun rights supporters began using the #comeandtakeit hashtag, which has its origins in the Battle of Gonzales in 1835, when Texas was part of Mexico.
Gun sales hit record highs in the lead-up to Obama's announcement, the Washington Post reported. While the gun lobby protests against stricter regulations, people's fears that their continued ability to purchase such weapons is under threat leads to an upsurge in gun sales.
Former Florida Governor Jeb Bush and other Republican presidential candidates promised that, if elected, they would reverse any executive orders.
Carly Fiorina called for Obama to enforce existing gun laws. The former HP CEO has said those on the Terror Watch List should be able to buy guns. "If somebody is a suspected terrorist on a watch list, they can be indicted at any time, and once you're indicted, you cannot own a firearm," she told MSNBC's 'Morning Joe' following the San Bernardino attack.
The National Rifle Association boasted about its good work. The NRA's Chris W. Cox released a statement on Tuesday accusing Obama of attempting "to distract attention away from his lack of a coherent strategy to keep the American people safe from terrorist attack."
Speaker of the House Paul Ryan (R-Wisconsin) issued a statement saying that Obama's word does not trump the Second Amendment.
Democratic presidential hopeful Hillary Clinton praised the president and reminded everyone to vote for her.
There have been 147 gun-related deaths in the US in the first five days of 2016.