Down periscope: Nuclear sub accident costs $1m, commander loses job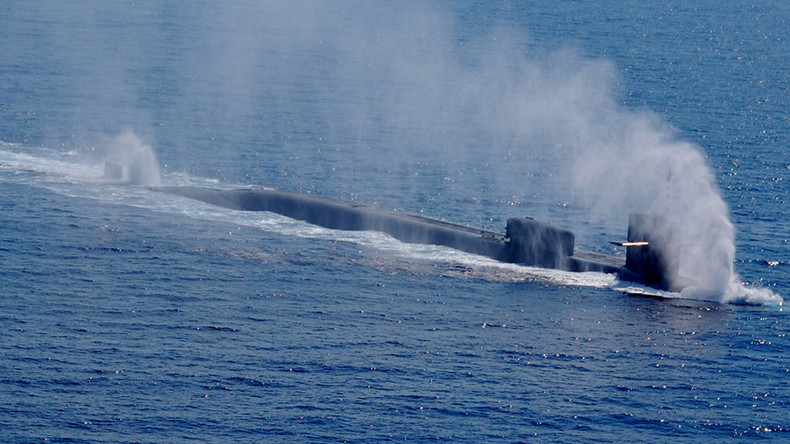 A US Navy commander has lost his job following an accident that damaged a 18,000-ton nuclear guided-missile submarine. The banged-up sub will cost taxpayers at least $1 million to repair, the Navy said.
Captain Dave Adams was relieved of his command of the USS Georgia on Monday, and was reassigned to another post with Submarine Group 10 of Naval Submarine Base Kings Bay in Georgia.
On November 25, 2015, Adams was commanding one of the two alternating crews that operate the USS Georgia when the 560-foot submarine crashed into a channel buoy on its way back to base in Kings Bay.
Adams was responsible for the damage, and had therefore been dismissed, due to a "loss of confidence in his ability to command based on facts and circumstances revealed in a command investigation into the Nov. 25, 2015, incident in which USS Georgia was returning to port, struck a channel buoy, and then grounded," the Navy said.
The Navy is continuing to investigate the incident, according to the Brunswick News. Navy officials believe that repairing the damage to the submarine's exterior will cost about $1 million. There was no hull breach or interior damage, however.
"Commanding officers are held to the highest standards of professional conduct and accept the responsibility of command with full regard for its consequences," the Navy added in a statement.
Adams told the Brunswick News he was sorry about the accident, which occurred while he commanded the Georgia 'Blue' crew, which works with the 'Gold' crew to operate the submarine.
"The actions that hazarded Georgia upon a scheduled return to port in the dark on the morning of 25 Nov were mine alone," Adams said. "I ask that my lapses not be used to denigrate the terrific service of the sailors and families of Georgia Blue. After 30 years of serving in the world's finest Navy, my only regret is that I will miss sailing with them again to stand against our nation's enemies."
The USS Georgia was commissioned as a ballistic-missile sub in 1982, and was subsequently modified to be a guided-missile vessel in 2004.
You can share this story on social media: