Chick-fil-Ain't: Only NYC restaurant closed over health violations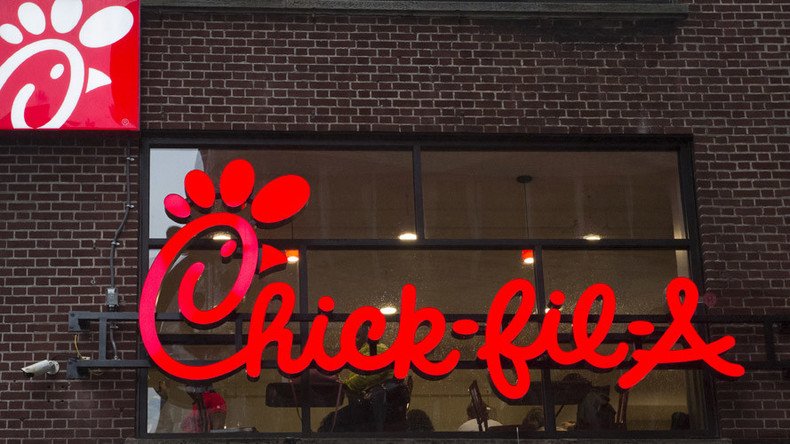 New York's new and only Chick-fil-A restaurant has been closed until further notice, not for homophobia, but for health violations.
Opened just three months ago, a sign on the restaurant's door states it is closed from December 30 "for a few days… for restaurant maintenance and facility updates."
It follows a Christmas Eve inspection which found 59 breaches of hygiene regulations.
Scheduled to reopen Monday, this will now not happen, with the restaurant wanting to make sure "everything exceeds standards."
The NY Department of Health found food was being refrigerated at temperatures which were too high and not being fully protected from contamination.
READ MORE: Another outbreak: 2nd wave of E. coli illnesses at Chipotle probed by feds

A number of "filth flies" were discovered in the facility's food preparation areas, the staff used dirty cloths for cleaning, and the restaurant was not "vermin proof," giving access to one of the city's most infamous populations.
With the restaurant closing its doors having only opened in October, some Chick-fil-A fans have taken to Twitter to vent their anger and upset.
Other social media users said it was inevitable it would be the New York City branch that would be closed on such grounds.
#BlackLivesMatter activists now have a new reason to boycott Chick-fil-A. Black employees are being made to wear T-shirts that say "Back the Blue" in support of the counter-group Police Lives Matter.
Chick-fil-A's CEO Dan Cathy has been trying to put a 2012 same-sex marriage controversy behind him and his billionaire family's business.
The chicken chain faced a national boycott of same-sex marriage supporters who were offended by his comments - and the millions of dollars donated by Chick-fil-A to organizations that were "hostile" to LGBT rights.
Cathy told the Christian Post in 2012 that people were "inviting God's judgment... when we shake our fist at Him and say, 'We know better than you as to what constitutes a marriage'."
Reflecting on the controversy in 2014 to the Atlanta Journal-Constitution, he said: "Every leader goes through different phases of maturity, growth and development and it helps by (recognizing) the mistakes that you make. And you learn from those mistakes. If not, you're just a fool. I'm thankful that I lived through it and I learned a lot from it."
For now, Chick-fil-A is only available in the US, although Cathy said in that same AJC interview what it would take to expand overseas.
"If we can't get a dozen stores in Manhattan profitable, then we have no business going to London," Cathy said.
You can share this story on social media: