Waterworld: Drone captures historic Missouri flooding and damage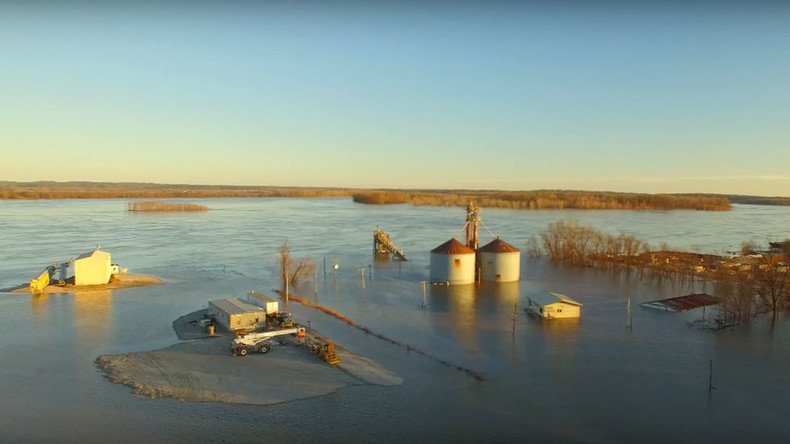 A massive cleanup is underway in the US Midwest after three Missouri rivers reached levels not seen in winter since the times when Mark Twain was rafting the river as a teenager.
Sixteen states in total issued emergency weather warnings as mass flooding in the region claimed the lives of at least 31 people.
Heavy rainfall at the end of December, the worst since May 2011, caused the Mississippi, Meramec, and Missouri rivers to burst their banks.
"Flooding on the middle portion of the Mississippi River and some of its tributaries reached levels not seen during the winter months since records began during the middle 1800s," reported Accuweather.
The Mississippi River was 40 feet (13 meters) over the flood mark at one stage, while 17 million people faced imminent danger.
US President Barack Obama signed an emergency declaration, allowing federal aid to be used in the clean-up operations.
Visiting the affected-communities of Eureka and Cape Girardeau on Sunday, Missouri governor Jay Nixon described the damage as "almost as if you are living on some other planet."
Cape Girardeau resident Oral R Friend captured footage of some of the devastation from the air with a drone.
The strangely-serene clips of the mighty Miss show marooned homes in what look like scenes from a Hollywood disaster movie.
"Cloudy, cold and the waters are rising," Friend posted on Facebook. "I put it together rather quickly, but it should help give a view of some of the areas around Cape that are feeling the effects of the water."
In one video taken on New Year's Day, vehicles can be seen abandoned in parking lots and a quarry is swamped by the historic rainfall.
According to Reuters, most of the 31 people killed during the disaster in Illinois, Missouri, Oklahoma, and Arkansas had been out driving.
You can share this story on social media: