Sister Act-ivists: Cannabis-growing 'nuns' campaign to save their crop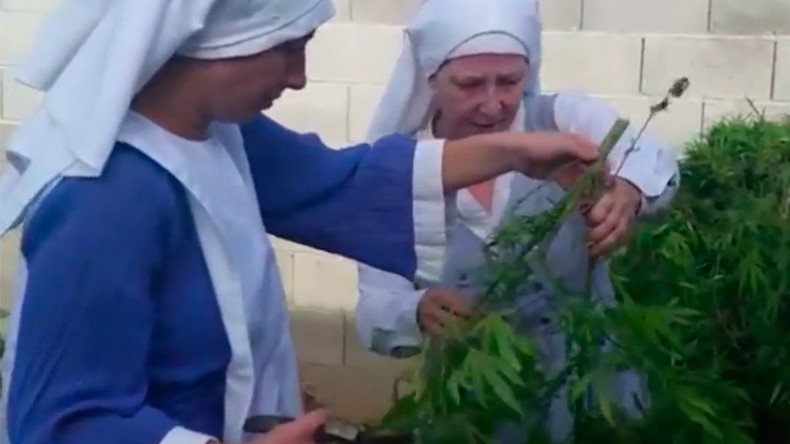 A "drafting error" in California's revision to its medicinal marijuana law could leave established growers like "Sisters of the Valley" without a crop.
According to their website sistersofcbd.com, they are not traditionally religious or part of an order, but call themselves "nuns", wear a habit, and are on a spiritual quest.
Their year-old cannabis business might have to close if a proposed ban on all marijuana cultivation kicks in.
Sister Kate and apprentice Sister Darcey from Merced, California have been producing salves and tonics made with cannabinoids (CBD), but not THC, the substance that causes a high.
They are on a mission to heal the sick with their cures and have been gaining popularity on YouTube for their music videos.
Their magic medicine doesn't come cheap, however.
Two fluid ounces (400mg) of CBD oil made by the moon's cycles and used for pain relief, costs patients $85.15, not including shipping, through their Etsy page.
The sisters claim their preparations can treat a wide range of problems.
"We make CBD oil which takes away seizures, and a million other things," Sister Kate told KFSN-TV reporter. "And we make a multi-purpose salve that cures migraines, hangovers, earaches, diaper rash, and toothaches."
The future of the business remains uncertain as Mercer City Council meets this week to consider banning all marijuana growing in the area.
The new requirement is the result of an "glitch" made in the final version of the Medical Marijuana Regulation and Safety Act.
The healing sisters still have high hopes of continuing their work legally and are petitioning to stop the ban.
"Embrace, regulate, and tax, that's all we want them to do," said Sister Kate.
Merced city council is under pressure to put a ban in place soon, because otherwise more lenient state regulations will take effect in March.
The city's planning commission recently voted to allow the continued distribution of medical marijuana.
The council must now decide if they wish to follow these recommendations, go with a total ban, or adopt something in between.
You can share this story on social media: