Footage of autistic Alaska man's arrest brings excessive force claims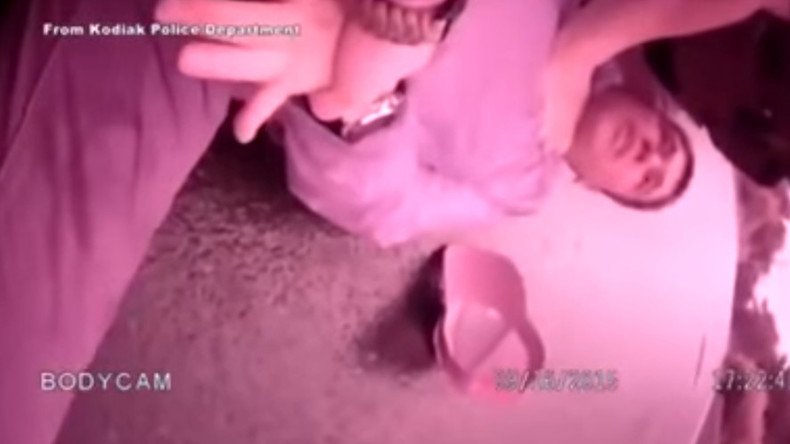 Bodycam footage of Kodiak police arresting and pepper-spraying an autistic man has caused major upset in the Alaskan town.
The controversial recording of the September 16th arrest was finally obtained on December 31st through a public records request.
The arrest led some Alaskan community members to accuse local police officers Kathleen Gambling, Phillip Christman, and Sargent Francis de la Fuente of using excessive force in arresting 28-year-old Nick Pletnikoff.
Incident reports written by the officers say they arrested Pletnikoff after responding to a call from two tourists who said Nick had "forced his way into their vehicle and was in the process of rifling through their belongings." The officers insist "that any use of force was minimal and necessary under the circumstances," according to police reports obtained by KTUU.
In the footage, Nick can be heard yelling, "I want to go home!" and "I'm sorry!" Sargent de la Fuente wrote in his report that Pletnikoff was "very strong" and resisted attempts to subdue him.
Following the arrest, Pletnikoff's mother Judy approached officer de la Fuente and told him of her son's condition.
"Judy told me Pletnikoff was autistic and usually goes inside cars because he likes cars, but does not steal anything," de la Fuente wrote.
The third arresting officer, Christman, revealed in his report that he knew the man and so had put his pepper spray away.
"On approach, I yelled for the subject to stop or I would pepper spray him. I then saw it was Nicholas Pletnikoff, who I recognized from personal contacts, and put my pepper spray away and pulled my handcuffs out to try to detain him," Christman wrote.
No charges were filed once officers learned of Pletnikoff's autism, wrote police.
A report from an independent investigator found the officers had acted professionally and used their authority appropriately, including "the minimal amount of force necessary," according to Alaska Dispatch News.
You can share this story on social media: