Clinton Conflicts: Bill cashes in on Hillary's diplomacy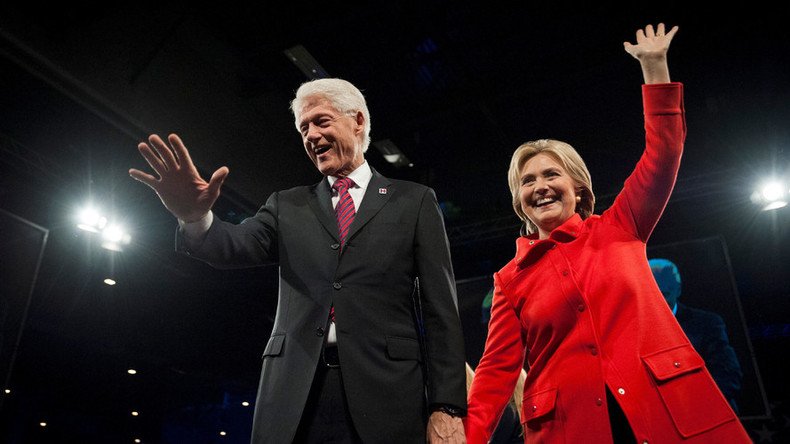 US presidential candidate Hillary Clinton is under further scrutiny after it emerged that her husband and former president, Bill Clinton, made $8 million giving talks to companies which had interests before the State Department.
Hillary Clinton served as US Secretary of State for the Obama administration between 2009 and 2013.
It became clear last year that former president Bill Clinton was making a pretty penny, $2.5 million in fact, from organizations that would have liked a word in his wife's ear. Now, it seems the total is much higher.
The Clintons' apparent failure to draw a line between private and public political affairs has led to murmurings of a conflict of interest, something which has already dogged Mrs. Clinton's campaign for the White House.
In May the International Business Times wrote how, during Hillary Clinton's tenure, the State Department "approved $165 billion worth of commercial arms sales to 20 nations whose governments have given money to the Clinton Foundation."
Now the Wall Street Journal is reporting that Bill Clinton made more than 200 speeches to sponsors and lobby groups around the time they were striving to get legislation pushed through with the State Department.
At least fifteen wannabe political influencers donated between $5 and $15 million to the family's charity, the paper states.
While the Clintons deny ever having received donations for political favors, the Wall Street Journal article highlights occasions where the line of impartiality appears blurred.
There's no evidence to suggest anything illegal has happened, and the Clintons had the presence of mind to clear the speaking engagements with the State Department ethics authorities.
However, an analysis of "financial disclosure forms, lobbying records and emails" reveals "several instances" where donors to the family and the Clinton Foundation charity appeared to benefit from State Department actions.
One particular example reports how Bill Clinton received $1 million for attending two Abu Dhabi state sponsored events. At the same time, between 2011-2013, the State Department was negotiating a request from the United Arab Emirates to facilitate fast-track visas for travelers entering the US.
Only five other countries had such an arrangement at the time and the agreement came despite large-scale opposition.
The Air Line Pilots Association, the largest pilots union in the world, blasted the proposal, arguing it exclusively benefited UAE state-backed Eithad Airways.
Buried: State Dept. releases Clinton emails on New Year's Eve, misses court quota

The Gulf airline was a sponsor at a UAE government conference, where Bill Clinton earned $500,000 for giving a talk about the importance of tourism.
However, Clinton campaign spokesperson Brian Fallon has rejected any implications of a conflict of interest.
Responding to the Wall Street Journal report, he said "no evidence exists" of Bill Clinton's hosts influencing State Department decisions.
You can share this story on social media: