Ben Carson's top aides, 20 staffers quit in latest campaign blow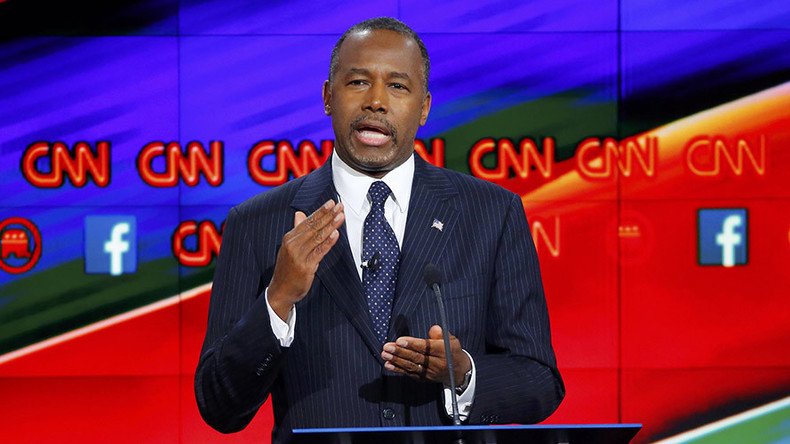 Republican presidential candidate Ben Carson received another blow in his bid for the White House after two of his top aides resigned.
Carson's campaign manager Barry Bennett and communications director Doug Watts stepped down just five weeks before the first contest for the Republican nomination in Iowa on February 1.
On top of that another 20 staff members quit amid infighting, falling poll numbers, and negative media coverage, according to Reuters.
Both Bennett and Watts blamed their departures on another top advisor to Carson, Armstrong Williams.
Bennett blamed Williams for an interview Carson gave last week to The Washington Post suggesting that the campaign was in disarray.
"It's one of the stupidest things I've ever seen a candidate do," Bennett said.
Things had "boiled over" with Williams, Bennett told Reuters.
"For the past seven weeks, I've been doing nothing but putting out Armstrong Williams-started fires," Bennett said.
He also claimed Watts resigned due to differences with Williams and that a total of 20 staff had left, including deputy campaign manager Lisa Coen.
Williams, a political commentator who holds no official role with the campaign, said he was "shocked" by Bennett's criticism.
"They're giving me a lot more credit than I deserve," he told Reuters.
Carson's staffing crisis comes as the retired neurosurgeon's position slides in the polls.
He now places fourth in many national opinion polls after being tied with front runner Donald Trump just a few weeks ago.
Despite these troubles, Carson was still able to raise almost $23 million in the final three months of 2015.
His campaign announced Bob Dees, a retired Army major general, would be campaign chairman while Ed Brookover, formerly a senior strategist, would serve as campaign manager.
Carson's campaign has courted controversy due to a number of ill-informed statements made by the Republican candidate.
In October he compared abortion to slavery.
"I know that's one of those words you're not supposed to say, but I'm saying it," Carson began. "During slavery, a lot of slave-owners thought they had the right to do whatever they wanted to that slave, anything that they chose. And what if the abolitionists had said, 'I don't believe in slavery, but you guys do whatever you want'? Where would we be?"
Carson also came under criticism for remarks he made regarding the Holocaust and gun control.
He told CNN "I think the likelihood of Hitler being able to accomplish his goals would have been greatly diminished if the people had been armed. I'm telling you there is a reason these dictatorial people take guns first."
READ MORE: Carson under fire over comment on Nazi gun control and Holocaust
You can share this story on social media: