91% of people surviving opioid overdoses are prescribed more opioids– study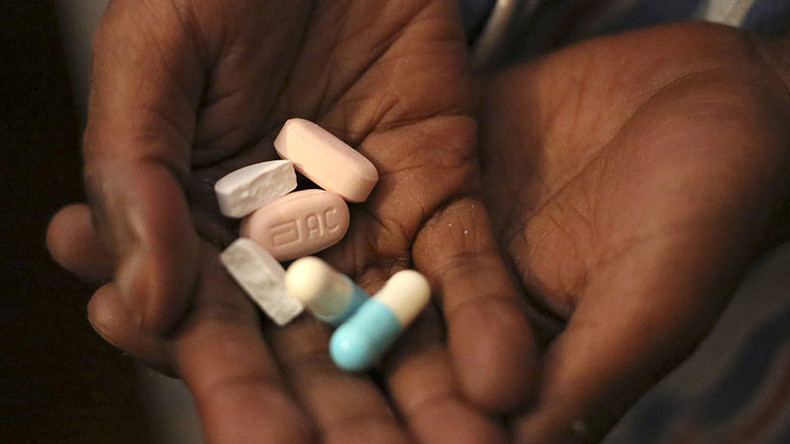 More than 90 percent of the people who survived a prescription opioid overdose were able to obtain another prescription for the same drugs that nearly killed them, according to a Boston Medical Center study.
The study also found that 7 percent were likely to suffer a second overdose within two years.
The findings on chronic pain treatment came from analyzing a national database of 50 million health insurance claims filed from 1999 to 2014. Amongst the data, researchers found nearly 3,000 patients, aged 18 to 64, who were prescribed an opioid for chronic pain and were treated for a nonfatal opioid overdose within a 12-year timespan.
"Ninety-one percent got another prescription for an opioid," said Marc LaRochelle of the Boston Medical Center, a lead author of the study, told the Boston Globe. "It wasn't because they went down the street and found a new doctor. Seventy percent got it from the doctor who had prescribed before the overdose."
LaRochelle speculated that the doctors writing the prescriptions weren't aware of the overdoses. He said a physician would have no way of knowing about an overdose unless the patient volunteered the information.
LaRochelle said he would only know that one of his patients had overdosed if they had been treated at Boston Medical Center, but not if they had gone to another hospital. The findings indicate gaps in communication, education, and oversight that persist despite concerns over the overuse of opioid painkillers.
In other findings, it was revealed that overdose survivors who continued taking high dosages of an opioid, including morphine, oxycodone, and hydrocodone, were twice as likely to have another overdose within two years.
The findings come just two weeks after the Centers for Disease Control and Prevention (CDC) reported that drug overdoses had hit record levels in 2014, with over 47,000 deaths. The rate of overdose fatalities increased 200 percent from 2000 to 2014. Of those deaths, there was a 14 percent increase from opioid use involving painkillers and heroin.
The Boston Medical data was limited to insurance claims and contained no information about the outcomes for people without insurance or covered by Medicaid, Medicare, or the Veterans Health Administration.
"[T]he intent of this study is not to point fingers but rather use the results to motivate physicians, policy makers and researchers to improve how we identify and treat patients at risk of opioid-related harms before they occur," said LaRochelle in a press release.
The study suggested that the prescription-monitoring programs that most states have established to track addictive drugs could be expanded to track overdoses. Insurance companies could alert a prescribing physician when they receive a claim for an overdose treatment, and require prior authorization before writing a new prescription after an overdose, the Globe reported.
Larochelle told the newspaper "there is no evidence that opioids are effective in treating chronic pain, yet many patients say they depend on the drugs to function."
"The easiest thing to do is just refill the prescription," he said. "The hardest thing to do is sit down and have these long conversations about what to do."
Facing the epidemic of overdose fatalities head on, the CDC has urged physicians to cut back on opioid prescriptions and, instead, prescribe physical therapy and non-opioid painkillers. In addition, they suggested that patients taking opoids be required to have periodic urine tests to ensure no abuse is taking place.
The Boston Medical Center study was published in the Annals of Internal Medicine on Tuesday.
You can share this story on social media: