Anti-violence protesters march through streets of Chicago on New Year Eve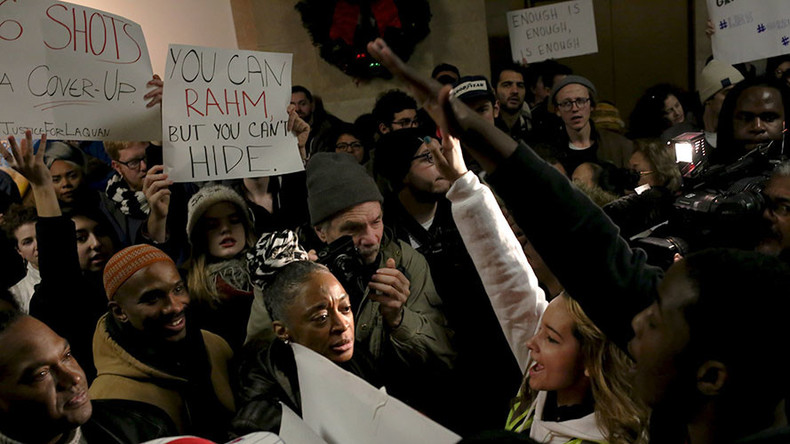 Chicago witnessed a new wave of anti-violence rallies on the eve of the New Year, with activists calling for an end to police violence and brutality, and gun violence in general.
One of the marches was headed by Father Michael Pfleger of St. Sabina Church, who called on the city's authorities to end the violence overrunning Chicago. According to a Chicago Tribune tracker, a total of 2,981 people were shot in the outgoing year, including those wounded and killed.
Police data shows that more than 450 people were killed by guns during 2015, according to WLS.
"While we celebrate and look over the year in review and see Lollapalooza and the NFL draft and all these great things, we also have bloodshed all over the city this summer and this past year and we want to say this is unacceptable. It's got to stop," Pfleger said, as cited by ABC7.
Pfleger told victims' relatives to carry photos of their killed family members at the rally down Michigan Avenue.
Students of Illinois University also marched through the streets of Chicago on Thursday, commemorating Quintonio Legrier, 19, who, along with his 55-year-old neighbor, was shot dead by a police officer on Saturday.
Another activist group promised to hold a "citywide walkout," demanding the resignation of Chicago Mayor Rahm Emanuel by the New Year.
The unrest in Chicago erupted after a number of incidents when police resorted to what many believe was excessive force.
One of the most notable cases occurred in October 2014, when white police officer Jason Van Dyke, 37, shot African-American teen Laquan McDonald 16 times, continuing to shoot even when the victim was lying motionless on the ground. The footage of the incident that resulted in Van Dyke being charged with murder was published only last month.
Another incident occurred on Saturday, when police shot a 19-year-old student dead when responding to a domestic disturbance call. His neighbor was also accidentally killed in the incident.
Under the pressure of mass protests, Chicago's mayor has announced a reform in police training aimed at improving interaction with suspects, which will also urge police officers to use non-lethal weapons such as Tasers and pepper gas.
"All of us will accept nothing less than complete and total reform of both the system and policing culture here in the city of Chicago. Just because you train that you can use force doesn't mean you should, and helping officers have that distinction ‒ and the training that goes with it ‒ is essential," Rahm Emanuel said at a press conference on Wednesday.
You can share this story on social media: