Hajj fighter jet? 3yo gets toy F-16 for Christmas that plays Islamic prayer chant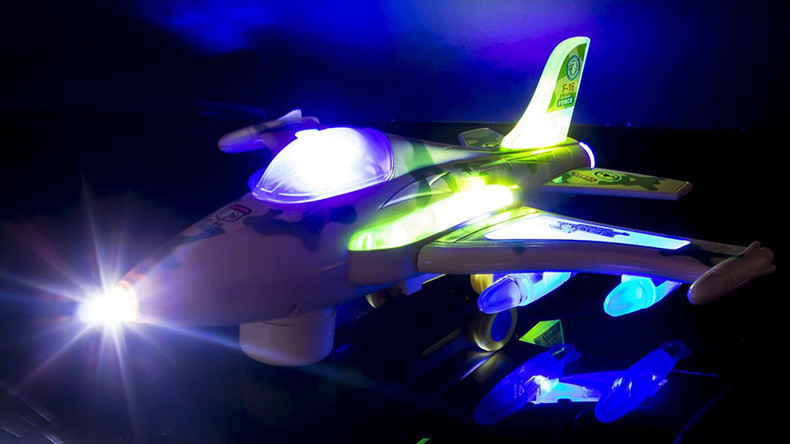 Holiday cheer was replaced with confusion when a little Washington state kid unwrapped his toy F-16 plane and heard an Islamic prayer as soon as he started playing. The 3-year-old's Christmas gift was purchased via Amazon.
"This is a prayer you're supposed to say when you're performing Hajj," Nadeem Israr, president of the Islamic Society of Whatcom County, told KING 5 TV station. He explained that Muslims read this payer during their pilgrimage to Mecca.
However, this is not what the toy was supposed to do. According to a description from one of the users, it should make noises just like a real jet as it rolls and turns around.
"We put the batteries in and didn't get what we expected," the boy's uncle Bjorn Thorpe told KING 5. "I do respect other religions, but it's not the right situation to have it on a children's toy."
On Amazon, where the family bought the toy fighter jet, the product has a four-star rating and over 320 customer reviews, with some of them pointing to the same problem as Thorpe's.
"Does not play jet noises. Plays an Arabic chant that is extremely bizarre for a child's toy," a customer Ziad wrote on December 26.
There are several other similar reviews from disappointed buyers.
"Plane has bizarre middle Eastern chanting no jet noises. Plane looks ok and moves around but the chanting is annoying and creepy and you can't turn off the sound," wrote Bill Ryan, another bemused customer, in the comments.
"Does not make jet engine noises... Plays a very disturbing middle eastern song or chant or prayer... Sending it back ASAP!! VERY disappointed!!" wrote Jason, another befuddled purchaser.
Thorpe expects Amazon to refund their money so they can get his nephew a better Christmas present.
"He just wants a plane," Thorpe told the TV station.
KING 5 reached out to Amazon for a comment, but their inquiry was not immediately returned.
The toy's manufacturer, WolVol, blamed its factory for the mistake, suggesting that it might have been a bad batch of toys, according to the report.
The toy fighter jet is now said to be "currently unavailable" on Amazon. "We don't know when or if this item will be back in stock," the page continues.