Owlcapone strikes again! Oregon attack owl returns with a new target – gov't workers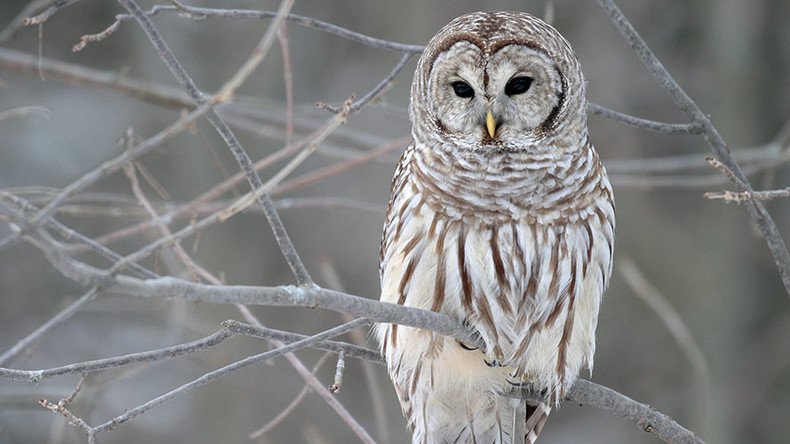 A barred owl that gained notoriety earlier this year for attacking joggers in a Salem, Oregon park is on the prowl again, but this time it's targeting government workers outside the state capitol. Three people have been clawed by the predator – so far.
"It's silent. You're just walking along, minding your own business, and an owl comes silently at you from behind," Tibby Larson, Salem's city parks department spokeswoman, told Reuters.
The most recent series of attacks began in late November.
"If you're in that neighborhood, we're advising you to wear a hat or carry an umbrella," Larson added.
One of the victims, Dwight French, who works for the state Water Resources Department, told Oregon's Statesman Journal that he was jogging from his office to a parking garage when he felt a bump on his head. He turned around and saw an owl fly into the trees and stare at him. As he crossed the street, the owl hit him again and then a third time.
"At that moment it was just really bizarre and kind of scary for a minute," he told the Statesman Journal.
French sustained several little cuts and said it looks like he "got a really violent haircut."
David Craig, a biology professor and animal behavior specialist at Willamette University, said this is the time of year when owls and eagles are courting and establishing their territory, which makes them aggressive. They lay eggs as early as February.
This isn't the first time that owls and people have collided in Oregon, however. Owl attacks made news headlines last January and February when a barred owl attacked four joggers using a hill in Bush's Pasture Park in Salem, a mile and half away from the current sky bombings.
Alarmed and concerned, park keepers began posting flyers about the owl attacks, which caught the attention of comedy writers for MSNBC's Rachel Maddow show, which aired a segment on wacky politics in Oregon. Maddow suggested the city should post vivid yellow warning signs using the iconic pedestrian stick figure bent forward on a run. Hovering above was an owl in fast pursuit with claws extended like a bird of prey.
Salem officials liked the idea so much they secured the rights to it and created 20 signs, which they installed around the park.
READ MORE: Warning signs for attacking, angry owls posted in Oregon
The owl's escapades prompted the Statesman Journal to launch a naming competition for its readers, who dubbed the bird of prey Owlcapone. The predator subsequently became immortalized through T-shirts and several beers named in its honor.
Professor Craig said there is no way of knowing if the owl that attacked French is the notorious Owlcapone establishing a new home or another barred owl.
Police in Salem are monitoring reports of owl attacks, but "we haven't arrested any owls," spokesman Lieutenant Dave Okada told Reuters.
You can share this story on social media: