'Potty watch' at Los Angeles County jail reformed after prisoners cuffed to wall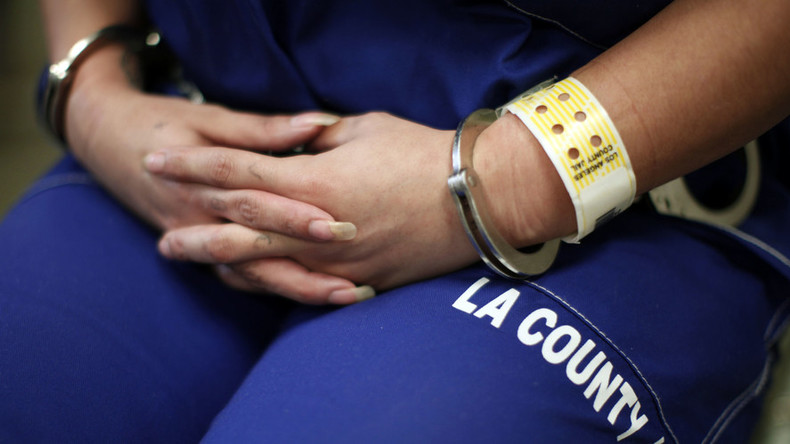 Dozens of prisoners suspected of ingesting or concealing contraband in bodily cavities were shackled from behind to overhead wall brackets in a Los Angeles County jail for hours – often partially or totally naked – under an official "potty watch" policy.
Underwear and socks were the only cover one inmate had for the 11 hours he spent handcuffed to a wall. Others were completely nude or had their feet bound as well, while one suffered enduring pain to bleeding wrists. All this took place while correctional officers monitored them, looking out for expelled foreign objects such as drugs, weapons, or cell phones.
"These incidents were discovered during a routine internal audit by command staff, and we determined that they could have been handled better," Sheriff Jim McDonnell wrote in a statement to The Los Angeles Times. "We immediately implemented new measures and policies to ensure it would not happen again."
The LA County Sheriff's Department was unaware that such harsh measures were being carried out at the North County Correctional Facility (NCCF) in Castaic, an unincorporated city about 40 miles from central LA, though all jails in their jurisdiction conduct so-called "potty watches," as do other jails around the country.
NCCF's policy, which was written specifically for its site, was instituted in April 2014. Upon witnessing their procedures in February, the Sheriff's Department overturned the policy, bringing all county jails under the same "potty watch" limits, which require hands to be cuffed at the waist rather than wall mountings. NCCF protocol had previously mandated that hands be cuffed to brackets, while shackling feet was optional.
Upon reforming the policy, the Sheriff's Department alerted the district attorney's office to 24 cases that could justify possible prosecution. However, 16 if those have been rejected so far, including the 11-hour incident and the case involving the bleeding wrists.
The only such case to result in criminal charges involved a detainee with a "kite," or paper note, up his rectum. It is unknown how long the victim's "potty watch" lasted, though he was held for a total of 11 to 13 hours, his attorney told the Los Angeles Times. In September, a sheriff's deputy was charged with misdemeanor assault on the prisoner, while sharing another misdemeanor charge of cruel and unusual punishment with two sergeants.
The head of NCCF, Captain Anselmo Gonzalez, and 13 other employees were moved to new positions that have no contact with inmates.