'I am Tamir': Streets, Brooklyn Bridge shut down in NYC after shooter of 12yo Rice walks free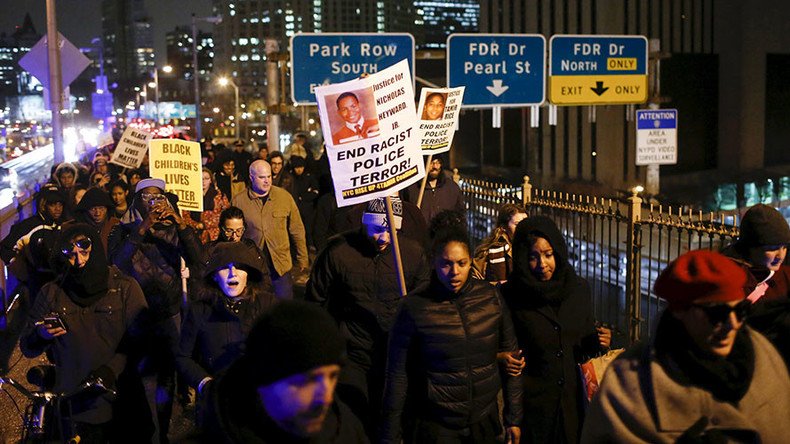 Angry at a Cleveland grand jury for failing to indict a white police officer in the shooting death of Tamir Rice, a black 12-year-old, crowds gathered in New York City to protest the decision, while blocking streets and the Brooklyn Bridge.
'Tragedy, not crime' - Grand jury declines to indict officer in fatal shooting of 12yo Tamir Rice
Despite freezing hail, dozens of people had flocked to Washington Square Park by 6:30 pm local time for a protest in solidarity with Tamir Rice and his family.
The black child was shot dead by police officer Timothy Loehmann in Cleveland, Ohio last year on November 22. The alleged gun that Tamir was holding turned out to be a toy.
Making their way down Broadway and towards the Brooklyn Bridge, protesters demanded that the shooter face justice, while chanting anti-police slogans and encouraging the movement to continue.
"We are doing this for Tamir. March on without fear," protesters shouted.
One of the slogans at Monday's rally was "I am Tamir Rice."
The march was organized by an anti-police-violence group known as NYC Shut It Down (aka Grand Central Crew). It was put together shortly after the announcement that a Cleveland grand jury had decided not to indict Loehmann.
The policeman insisted that he had a "mistaken, yet reasonable belief" that Rice would shoot when the teenager pulled the replica gun from his waistband. However, both Rice's family and activists accuse police of bias and the prosecution of manipulating the jury's vote.
After crossing the Bridge, protesters continued into the streets of Brooklyn.
No arrests have been reported, as the protest was peaceful.
In Cleveland, the grand jury's decision was protested outside the Cudell Recreation Center and activists blocked streets across the city.
In addition, the Black Lives Matter movement set up a "healing space" at an East Side church for members of the black community, Cleveland.com reported.
You can share this story on social media: