Monster winter storm 'Goliath' brings twisters, floods, snow and deaths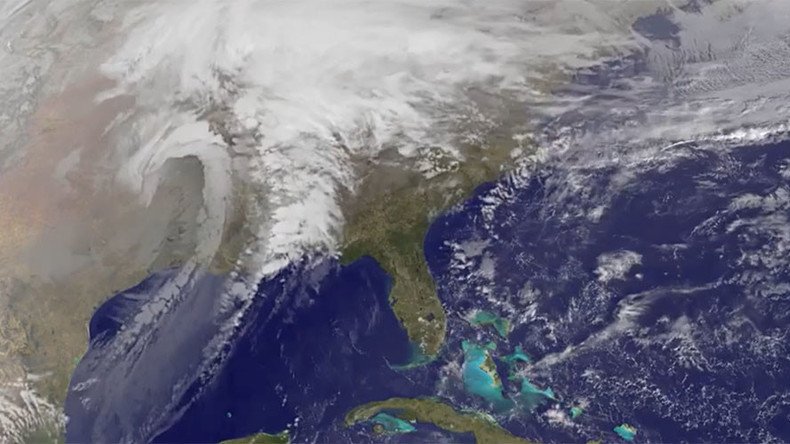 Animated satellite imagery shows a massive storm system dubbed "Goliath," tracked over the course of two days, that brought severe weather from Georgia to Michigan. Missouri and New Mexico declared a state of emergency and at least 11 people died in Texas.
The animated satellite recording released by NASA on Monday combines visible and infrared imagery from the National Oceanic and Atmospheric Administration (NOAA). The GOES-East satellite caught the images and shows the eastward movement of the storm from December 26 to December 28.
The front has already brought snow, heavy rainfall, flooding and tornadoes to the Southwest, leaving dozens dead and prompting hundreds of flight cancellations.
Flood and flash flood warnings, watches and advisories were in effect on Monday from northeast Texas across the mid-Mississippi Valley into the Tennessee and Ohio River Valleys. Winter storm advisories extended from north-central Texas northeastward through the Midwest and the Great Lakes. Winter weather advisories and winter storm watches were issued for much of New England.
The low pressure system is expected to move to the Great Lakes region on Tuesday, shifting the winter storm threat to Upstate New York and New England.
Multiple tornadoes struck North Texas on Saturday, leaving at least 11 people dead and dozens injured. Twisters swept through the Dallas area and caused substantial damage to buildings, according to CNN.
In the NASA animation, during December 26, clouds can be seen containing the line of severe thunderstorms that generated the multiple tornadoes around Dallas.
The National Weather Service reported that a tornado with 175-miles-per-hour winds hit Garland, Texas.
New Mexico Governor Susana Martinez declared a state of emergency on Sunday, mobilizing the National Guard to rescue stranded drivers after the eastern part of the state was hit with snow.
"Someone may look [at] the winter in Albuquerque or Santa Fe and say, 'It doesn't seem that bad,' but it is extremely bad," Martinez said, according to KOAT. "I cannot express how serious the situation is. The southeastern part of the state has 16 to 20 inches of snow with snow drifts of 8 to 10 feet."
Over 10,000 homes were without power on Sunday, and 500 tractor trailers were lined up along the Interstate-40 eastbound lane. There were 300 reported crashes in New Mexico, with 50 in Albuquerque alone.
The storm system also generated heavy snow and flooding in parts of Texas, Oklahoma and New Mexico. Heavy rain fell in Missouri, Arkansas, Mississippi Alabama and the Florida Panhandle.
Flooding in Missouri and Illinois left at least 13 dead. Missouri Governor Jay Nixon declared a state of emergency on Sunday as heavy rain, flooding and flash flooding affected much of the state – and more rain and additional flooding is expected through Monday. Rivers are forecast to continue to rise over the next several days. Multiple roads were closed and Missouri State Highway Patrol has conducted dozens of water rescues.
"Multiple fatalities due to flash flooding have already been reported, and I urge Missourians in flood-affected areas to stay alert, avoid travel if possible and never drive into a flooded roadway," said Governor Nixon, according to a press release. "State emergency management personnel will be working around the clock to keep Missourians safe."
Illinois activated its emergency operations center due to the storm. Authorities in Georgia said they recovered the body of a man whose car was swept away by floodwaters.
You can share this story on social media: