Man arrested at home after walking dog off-leash, faces felony charges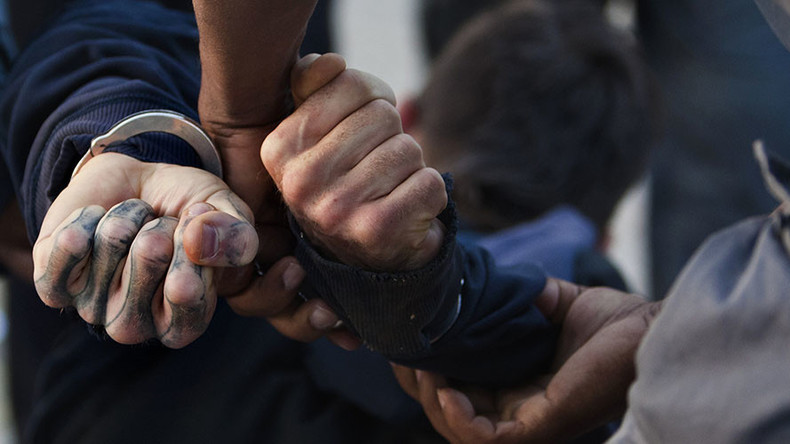 Cell phone video of a man resisting arrest in his own home and having his head slammed through a wall is going viral. How the New York City police officers got inside the home is unclear, but it all stemmed from a puppy being walked without a leash.
Nicholson Gregoire, a 25-year-old biology student at Nassau Community College, was walking his puppy pit bull, Blue, around 5:00 pm on December 15 when he noticed police conducting "stop and frisk" searches, according to the New York Daily News.
Police noticed the dog wasn't restrained by a leash and asked Gregoire for ID. Gregoire reportedly was granted permission to go inside his Queens Village home to find the ID, but he closed the door, prompting two officers to repeatedly ring the doorbell. Gregoire's 87-year-old grandfather, Roleme, came down the stairs to answer the door, but from there, the police and Gregoire tell different versions of subsequent events.
"The police are alleging that my client answered the door and dragged them inside, to justify coming into the house … They had no basis to enter the premises," Mark Crawford, the lawyer for Gregoire, told the New York Daily News.
The arrest report alleges Gregoire would not hand over his ID, against the grandfather's advice. Cell phone video taken by Gregoire's girlfriend opens with an ongoing struggle between Gregoire and the officers, though Gregoire is holding up his hands showing his ID. Gregoire and his grandfather say police pushed through the grandfather to make the arrest.
The wrestling continued for several minutes, and at one point the video shows Gregoire's arm around one officer's neck. Eventually backup arrives and things escalate.
"I don't recall putting the officer in a chokehold," Gregoire told the Daily News, his arm in a sling for an elbow injury.
Gregoire's head ends up busting a hole in a wall after multiple hammerings from one of the four additional officers. Others punched or pepper-sprayed him multiple times before the six-foot six man was finally handcuffed.
"I've been watching the video over and over. I didn't use any foul language. I don't think I should have been arrested in my home for walking my dog. I was scared for my life. They have the guns," Gregoire said, adding he's suffered from migraines and nightmares since the encounter.
Gregoire is facing seven years in prison for charges including resisting arrest, assaulting an officer, and strangulation, according to the Daily News. His employer has suspended him, and he missed a final exam at school before his family paid $2,500 in cash to bail him out of jail.
The 105th Precinct officers had simply wanted to issue a ticket and court summons for violation of leash laws, an NYPD spokeswoman told the Daily News.
"They used two full cans of Mace on me like a rabid animal. Not one of the officers tried to deescalate the situation," Gregoire said.
Two officers sustained unspecified injuries and were released.
Gregoire says he will file a claim against the city.
"The police showed no respect for the law, almost like mob mentality. If they were not police officers this would have been a gang assault," Crawford said.
"My client's constitutional rights were violated. The officers were smiling and that's telling. These officers were not in any physical danger."