At least 11 dead as wave of tornadoes rolls into north Texas (VIDEOS, PHOTOS)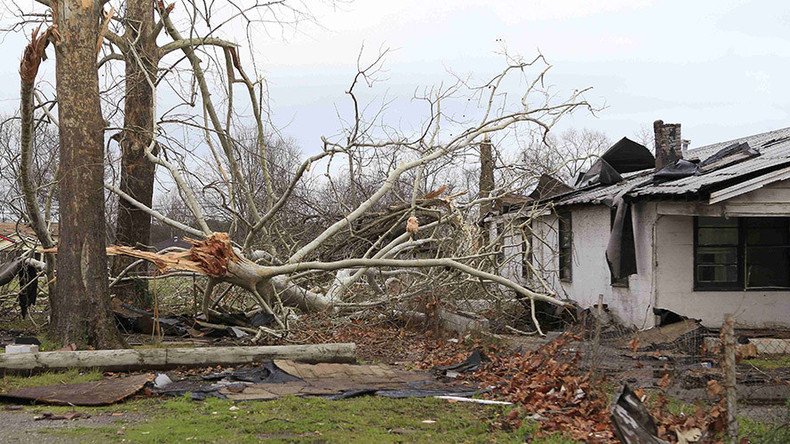 At least 11 people have been confirmed dead since a series of tornadoes ravaged north Texas. A preliminary count by weather authorities show a dozen tornadoes have hit the Dallas area.
Officials in Garland had first confirmed the death of five people after one tornado hit an intersection. Another three have been confirmed dead in Collin County, according to the Sherriff's Office, as cited by CBS DFW. One infant died in Blue Ridge, and another two people in Copeville; all as a result of the storms.
The National Weather Service's Anthony Bain said it is too early to know the extent of the damage, and more should be known about the situation in Texas after daybreak.
The exact number of people injured remains unknown. "As of right now, we are still in the search and rescue mode. We still have some homes that have been demolished and not everyone in the homes has been accounted for," Rowlett police spokesman Detective Cruz Hernandez said, according to the AP.
Ripping through residential neighborhoods, the storms tore off roofs and uprooted trees, mangled vehicles, damaged power and gas lines, and sent debris flying along a 40-mile stretch running through Dallas from north to south.
Shelters are being set up by The Red Cross to assist those who have lost their homes. However, the population is still not in the clear, as earlier twisters were accompanied by torrential rain and hail that could cause major flooding from north Texas to eastern Alabama.
READ MORE: Christmas tornado pounds Birmingham, Alabama, weather havoc rages on
The tragedy struck Texas just one day after a devastating tornado hit north-central Alabama. Both are part of a wave of tornadoes that has swept through the South and Midwest during Christmas week. The Alabama tornado was first spotted in Birmingham and caused substantial damage, but no fatalities.
Earlier, fourteen people were reported killed, along with dozens injured, by some two dozen tornadoes and uncharacteristic torrential rains that have hit Tennessee, Indiana, and Mississippi over the past few days, the latter state bearing the brunt.
You can share this story on social media: