Fireball in sky wows US onlookers, turns out to be Russian space rocket (VIDEO)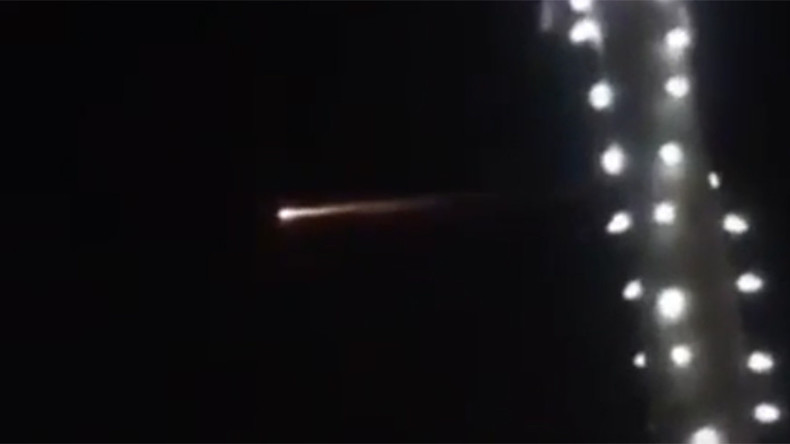 A bright light phenomenon in the night sky in US states California, Nevada and Arizona was caused by the first stage of the Russian Soyuz rocket taking a cargo ship into orbit for a rendezvous with the ISS, the US military has confirmed.
A ball of fire traveled across the skies and later disintegrated into several objects above Arizona on Monday, clearly visible from neighboring states. It was witnessed by thousands of Americans, and led to the surfacing of numerous photos and videos on the internet, with comments along the lines of: "Have you seen THAT?!" and "Do you believe THAT?!"
US Strategic Command spokeswoman Julie Ziegenhorn has now clarified the mystery by confirming the fireball was in fact the first stage of the Soyuz rocket launched Monday.
The Soyuz-2.1a rocket booster was launched from the Baikonur Cosmodrome in Kazakhstan on December 21 at 08:44 (GMT). The rocket delivered into orbit the latest modification of Russian cargo spacecraft, Progress-MS-01 (first unit), with nearly 2.5 tons of supplies, including food, fuel and compressed oxygen, for the expedition aboard the International Space Station (ISS).
Progress-MS-01, which became the 62nd Progress cargo spacecraft launched, successfully docked with the ISS in automatic mode on December 23 at 10:31 (GMT).
In early November a similar incident took place in California, leading social media to speculate about a new UFO phenomenon. The Orange County Sheriff's Department later released a statement saying the light was caused by a rocket from a nearby US Navy missile test.
You can share this story on social media: