FBI failed to heed public warnings of Mohammed cartoon contest attack in Garland, TX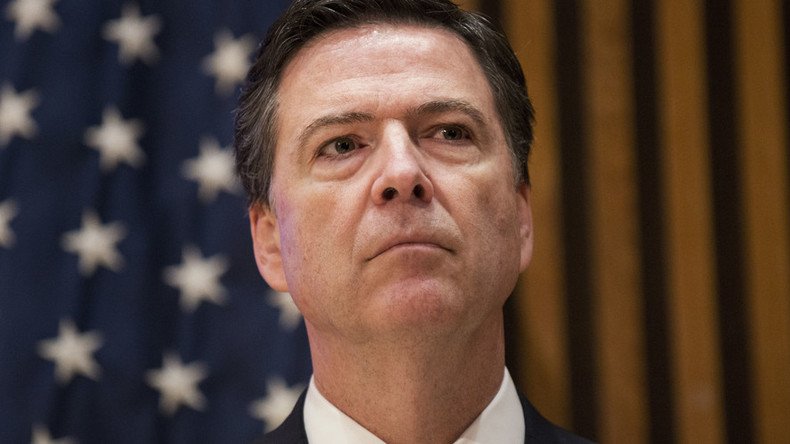 Undermining FBI Director James Comey's claim that encryption hinders terrorism investigations, the director of SITE Intelligence Group said the FBI was warned a week before the Garland, Texas attack occurred, citing the attacker's public Twitter activity.
For Islamic State (IS, formerly ISIS/ISIL), the May 3 attack in Garland was its first inspired act of terrorism on US soil, targeting Pamela Geller's 'Mohammed Art Exhibit and Cartoon Contest'. Although no one died, it was not carried out all that differently from the deadly, IS-inspired attacks in Chattanooga, Tennessee in July or the San Bernardino, California attack in November.
"There is in fact no evidence that [the Garland attack] or any of these other lone-wolf attacks could have been prevented by regulation of encryption technology," Rita Katz, director and co-founder of the Search for International Terrorist Entities Intelligence Group, wrote in The Washington Post.
That analysis conflicts with implications made by Comey to the Senate Judiciary Committee about how Garland might have been prevented.
"That morning, before one of those terrorists left to try and commit mass murder, he exchanged 109 messages with an overseas terrorist," Comey, said. "We have no idea what he said, because those messages were encrypted."
The way Katz tells it, however, what happened that morning is not as important as what did a week, or more, before.
Garland shooter Elton Simpson was already known by the FBI to use Twitter, as he followed and messaged well-known jihadists, according to an Associated Press source in federal law enforcement, as well as Chairman of the House Homeland Security Committee Rep. Michael McCaul (R-Texas).
McCaul also has said the Department of Homeland Security and FBI issued joint intelligence bulletins to local authorities on April 20, warning the Garland cartoon contest was a likely target.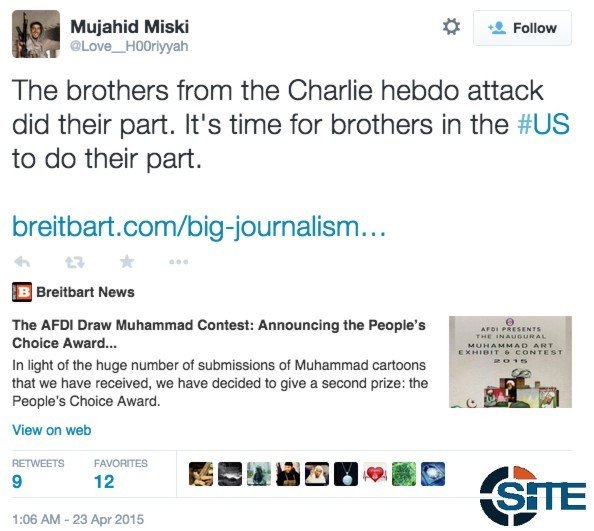 One of the jihadists Simpson followed on Twitter was IS recruiter Mohamed Abdullahi Hassan, also known as "Miski," an American member operating in Somalia. Ten days before the Garland shooting, Hassan tweeted, "The brothers from the Charlie Hebdo attack did their part. It's time for brothers in the #US to do their part," along with an attached news link announcing the upcoming Mohammed cartoon contest. Simpson retweeted him.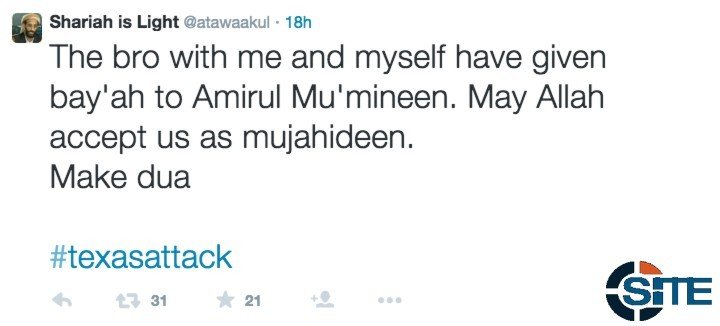 Simpson's final tweet came hours before the Garland attack, saying in part, "May Allah accept us as mujahideen," and ending with the hashtag #texasattack.
Katz located these tweets using open source information, "arguably the most important tool in tracking jihadists online," she wrote, stressing that encryption technology is the wrong bugaboo for the FBI to be focusing on.
"Regulation of these programs will take jihadists next to no time to circumvent; the U.S. government would be the one taking years to catch up," Katz wrote.
You can share this story on social media: