Mall of America sues Black Lives Matter activists, wants protest canceled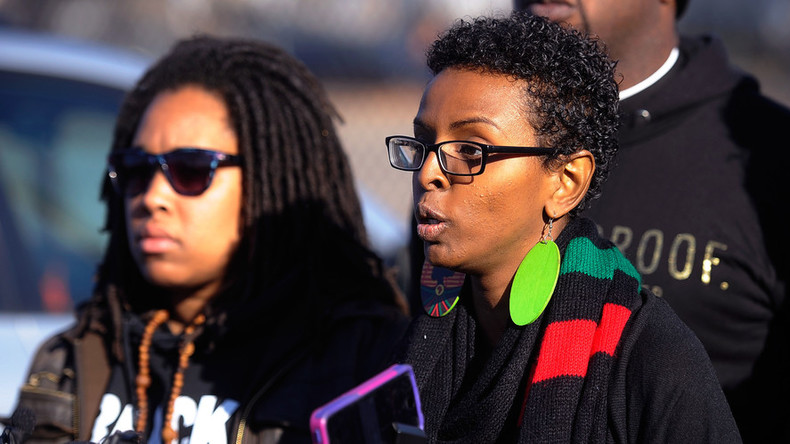 The largest mall in the United States has not only asked for a restraining order against eight Black Lives Matter activists, but also called on them to announce via social media that a planned protest on a busy shopping day would be canceled.
Hennepin County Judge Karen Janisch gave each side, the Mall of America (MOA) and Black Lives Matter Minneapolis, half an hour to speak during a 2:00pm hearing Monday. With a vacation scheduled to begin Tuesday, Janisch is expected to make a decision soon, although by law she has 90 days.
MOA took legal action when social media posts promoted a protest set to take place on Wednesday, December 23, a day before a busy Christmas Eve for the mall. The BLM protesters are focusing on the case of Jamar Clark, a 24-year-old black man who was shot by Minneapolis police November 15 and died the next day. Police union officials say Clark tried to grab an officer's gun, while eyewitnesses claim Clark was handcuffed when he was shot.
The Black Lives Matter (BLM) activists named in MOA's restraining order request are Lena Gardner, Michael McDowell, Kandace Montgomery, and Miski Noor, while four others are referred to as John Doe 1, 2, 3, and 4. Additionally, MOA asked the court to order they post cancellation messages on social media.
MOA anticipates irreparable business losses if the protest goes ahead. Last year, a similar protest on December 20 highlighting the Ferguson police shooting death of Michael Brown saw around 1,000 participants virtually shutting down large areas near the mall's East Rotunda. Dozens were arrested on charges of trespassing, but BLM organizers this year say not even a court order will deter them from returning.
The only way the December 23 demonstration will be canceled, organizers say, is if "authorities release the tapes related to Jamar Clark's case, prosecute police without a grand jury by special prosecutor, and bring federal terrorism charges against white supremacists who shot five protesters during the occupation."
MOA maintains its right to prohibit protests on its private property, noting that sales on December 20, 2014 were 15 percent lower than the previous five years.
"This is not about free speech. This is not about whether or not these folks have a good cause. Of course they have a good cause. This about where you demonstrate. And you demonstrate in places like this, in a court house. Mall of America on Wednesday is a place to take your kids and shop," MOA attorney Susan Gaertner told reporters after the Monday hearing.
"They're trying to force us to say something that, you know, they don't really have the authority to do so," Miski Noor told reporters, referring to the MOA telling her and others to cancel the protest via social media. "This is definitely not only an attack on Black Lives Matter, but on everybody's First Amendment rights and the right to speak out."
Asked whether MOA has the right to prohibit protests, Noor said, "I don't think so. I don't think so. You know, the Mall of America has taken hundreds of millions of dollars to be there. It is the people's space, and the people have a right to speak out."
"Us not speaking would be the mall winning yet again as corporations and police departments and the institutions collude with one another to silence us. That's not going to happen."
Another BLM organizer named in court documents, Kandace Montgomery, characterized the MOA lawsuit as "a perfect example of, really, just a strong cultural belief in white supremacy," where "profits actually do matter over people especially when it comes to black lives."
"The lawyers from the MOA were really trying to push forward this case without actual due process," Montgomery continued, "which just shows us that corporations really do believe that they have more rights than the rest of us, and that the duty of our police departments and our courts is to uphold that level of superiority for corporations, while continuing to marginalize and oppress black people and other people of color in our state and our country."
Asked why the largest mall in the country was their choice of venue, Montgomery said, "The Mall of America is really the coliseum of capitalism, right?"
"Millions of dollars are going to Mall of America while equity funding continues to be cut, while we have the highest unemployment disparities across the entire country, while our schools continue to be defunded, right? And that's a misallocation, and that's why the Mall of America, because it's not just a private entity when millions of public dollars go to build it."
You can share this story on social media: