'Putin killed reporters? Prove it!' – Trump to ABC show host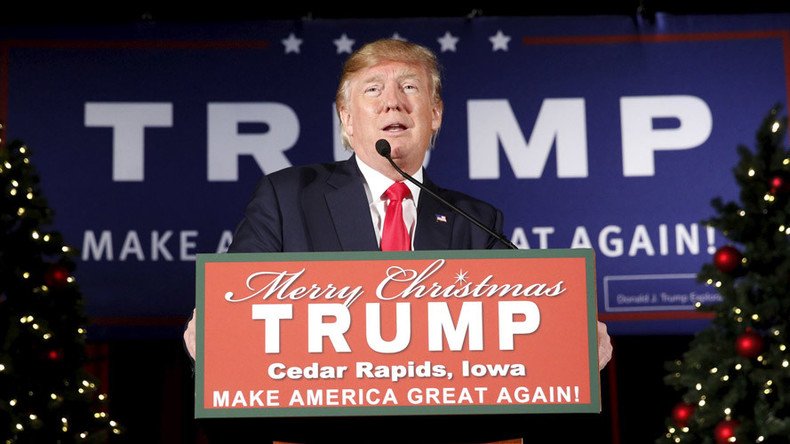 Donald Trump has fiercely defended Vladimir Putin when an ABC host cited "allegations" accusing the Russian president of killing reporters. Try to prove it, the Republican presidential hopeful said, reminding the media of the presumption of innocence.
The heated discussion took place on ABC's "This Week" show on Sunday when host George Stephanopoulos started asking the mogul about President Putin's policy.
Question after question – on Russia's alleged desire for world domination, relations with Iran, Ukraine – and finally, Stephanopoulos decided to play the Politkovskaya murder card.
"There are many allegations he was behind the killing of Anna Politkovskaya," Stephanopoulos said. Politkovskaya, a prominent investigative journalist and human rights activist, was killed on October 7, 2006.
He even quoted a tweet from Obama's Republican rival in 2012, Mitt Romney, who wrote: "Important distinction: thug Putin kills journalists and opponents; our presidents kill terrorists and enemy combatants."
Important distinction: thug Putin kills journalists and opponents; our presidents kill terrorists and enemy combatants.

— Mitt Romney (@MittRomney) December 18, 2015
"But, in all fairness to Putin, you're saying he killed people, I haven't seen that. I don't know that he has. Have you been able to prove that?" Trump said, sharply.
The US presidential candidate admitted that it would have been "despicable" if Putin were really implicated, but he hasn't seen "any evidence that he's killed anybody in terms of reporters."
"It's never been proven that he's killed anybody. So, you know, you're supposed to be innocent until proven guilty, at least in our country," Trump added.
The ABC host referred to numerous "allegations."
"I'm saying when you say a man has killed reporters, I'd like you to prove it," Trump argued. "And I'm saying it would be a terrible thing if it were true. But I have never seen any information or any proof that he killed reporters."
In fact, "our country does plenty of killing," Trump added, referring to the United States. When he was asked to clarify his phrase, he lashed out at another presidential candidate – Hilary Clinton.
READ MORE: Putin says 'talented' Trump is 'absolute front-runner,' welcomes pledge to work with Russia
"I think Hillary Clinton, when she was secretary of state, made some horrible, horrible decisions, and thousands and thousands and even hundreds of thousands of people have been killed. Take a look at what we're doing in the Middle East. We went into Iraq, we shouldn't have."
Trump has never concealed that he approves Putin's policy, including Russian military operation in Syria. In October, he said that he likes that "Putin is bombing the hell out of ISIS."
Earlier in December, Putin praised Trump during his traditional end-of-year Q&A session with journalists for wanting deeper ties with Russia. Putin also described Trump as the "absolute frontrunner in the presidential race."
"He is a very flamboyant man, very talented, no doubt about that... He is the absolute leader of the presidential race, as we see it today. He says that he wants to move to another level of relations, to a deeper level of relations with Russia. How can we not welcome that? Of course we welcome it," Putin said.
Trump quickly responded to Putin's comment, stating that it was a "great honor" to receive praise from a "highly respected" leader such as Putin.
"It is always a great honor to be so nicely complimented by a man so highly respected within his own country and beyond," Trump said at a rally in Columbus, Ohio.
You can share this story on social media: