Fed raises interest rates first time since 2006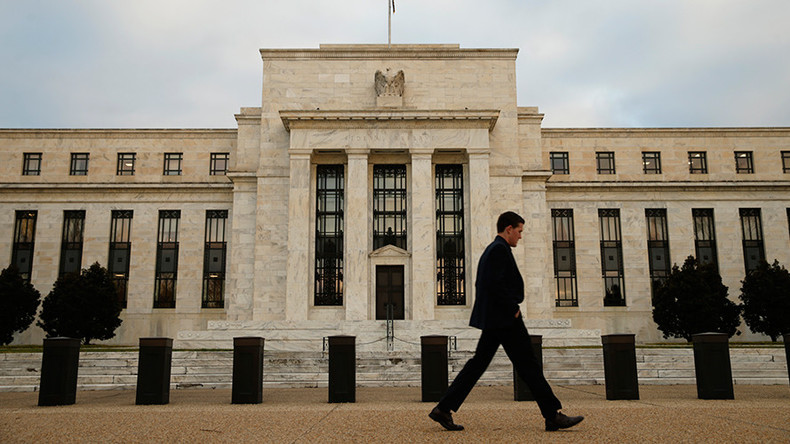 In a landmark move, the Federal Reserve announced Wednesday its an interest rate increase from almost zero to 0.25, the first hike in a decade. This signals signaling a change in the economic climate away from the 2008 financial crisis.
The Fed had been entertaining the idea of an interest hike since autumn this year. The central bank raised the benchmark federal funds rate from nearly zero to 0.25 percent, saying that the economy is growing at a reasonable pace and is set to accelerate in 2016. The move signals that the Fed is confident about the state of the US economy.
Following the announcement, the Dow Jones industrial average rose 0.44 percent, the S&P 500 was bumped up by 0.59 percent and the Nasdaq Composite gained 0.6 percent.
The increase means that borrowing rates for financial institutions and consumers will increase up.
The move also puts the end to the easy money, with the help of which the US central bank tried to fight stagnation. The Fed made clear that rate hike marked the beginning of a gradual and tentative tightening, and that its moves going forward will depend on inflation, which has remained below target for years.
"A range of recent labor market indicators, including ongoing job gains and declining unemployment, shows further improvement and confirms that underutilization of labor resources has diminished appreciably since early this year," Fed's statement reads.
Investors and economists have been guess about the moment that the Fed would move away from its near-zero interest rates for years, and it could eventually have far-reaching implications for the economy, from Wall Street all the way to the consumer. Changes in rates ultimately trickle down to affect rates on loans, credit card rates and savings accounts.
While the change is very small, it could add up for home buyers due to the sheer size of mortgages. Even for modest houses, .25 percent additional interest could pile on tens of thousands of additional dollars over the lifetime of the loan, Michael Fratantoni, chief economist at the Mortgage Bankers Association, told The Washington Post.
Democratic presidential hopeful Bernie Sanders, an avowed socialist, tweeted that he disagreed with the move, claiming that higher interest rates hurt the unemployed and low-wage workers.
Others, however, welcome to move, with some even saying that the change in rates is too little too late.