1st US town with majority Muslim city council unites around diversity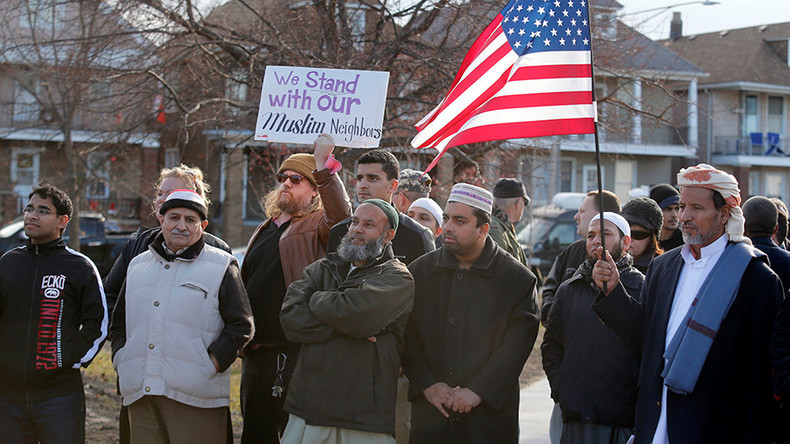 Residents of Hamtramck, Michigan elected four Muslims to their city council, making history in a city that once was 90 percent Polish. Some sense a divide in the community, but about 100 people gathered near City Hall this week to unite in diversity.
RT's Alexey Yaroshevsky traveled to Hamtramck (pronounced "ham-tram-ik") to see whether the anti-Muslim sentiments resonated. Despite some graffiti and other small-scale incidents leading up to the election, the city councilmen did not mention any hindrances on their path to victory.
"Our major thing in the plan was to target everyone in Hamtramck, Muslims or non-Muslims, so we knocked all the doors in Hamtramck, and we asked for everyone in Hamtramck to vote for us regardless of their religion, ethnicity, or their color of skin," Saad Almasmari, the top vote-winning city councilman said.
"We work with everybody, we help everybody, and we cooperate with everybody in other religions. So, no question, and there is no problem," Councilman Mohammed Hassan said.
"We are doing something better that people are moving to Hamtramck, that feel more secure and better life," Councilman Abu Musa said.
Although Hamtramck now has a majority Muslim City Council – three Bangladeshis and one Yemeni –it's still hard to call the city's population of about 24,000 majority Muslims, since there is no religious census information available. However, recent US Census statistics show a diverse community – 24 percent of residents are Arab, mostly Yemeni; 15 percent are Bangladeshi; while six percent are Yugoslavian, many Bosnian. That group is made up of Muslims, Hindus, and Buddhists, among others. About 19 percent of Hamtramck is African American and 12 percent is Polish.
Mayor Karen Majewski empathizes with her fellow Poles, telling The Washington Post, "There's definitely a strong feeling that Muslims are the other. It's about culture, what kind of place Hamtramck will become. There's definitely a fear and to some degree, I share it."
Majewski also told CNN, "No, I'm not afraid," of the city's large Muslim population.
Bangladeshi business owner Shaker Sadeak told RT, "Because it's a small, tight-knit community, everybody know each other, and I don't believe there is Islamophobia in Hamtramck."
Chester Kasprzak, owner of Hamtramck Drugs, said everyone is "concerned about terrorism, but I feel completely safe here in Hamtramck, without any kind of— no fear at all."
Bill Meyer, an activist with One Hamtramck, explained one of the societal elements at play for some adjusting to the Muslim culture.
"We were known for having more bars per acre in this city than any other place in the country, and Muslims don't drink. Muslims don't," Meyer told RT. "So, that right there is a cultural shock for people who have always drunk and always partied and did all this stuff, and now they see people being peaceful and quiet and walking around, no crime, no swearing, none of that kind of — it's a culture shock."